Coppell Personal Trainer Success Stories From Get You In Shape
Average people TRANSFORMING their LIFE!
Hi, my name is Cathy Edgington. I am the CEO of a safety awareness and recognition company in Dallas, TX. I am 45 years old and I have two children, 5 and 8. I live in Coppell and I have been taking the Get You In Shape Boot Camp for about a year. I have lost 30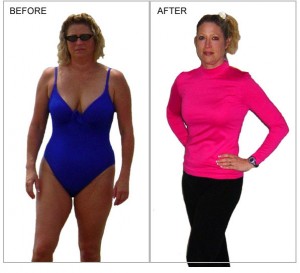 Pounds and 40 Inches! UNBELIEVABLE! That's just a bonus because I really just signed up to improve my health. The payback as been magnificent. I have more energy, I can keep up with my kids, I am fighting diabetes in my family. I feel WONDERFUL. Everyday is just a new beginning and I wake up with more energy and ready to start the day. I am going to continue this Boot Camp as long as it's offered because it make me feel so good and it offers so much balance to my life.


Jorge Lost 94 Pounds with Get You In Shape

I started the Get You In Shape  at 296 pounds. I started with the Advocare 24 Day Challenge. I then joined the Get You In Shape Coppell Boot Camps. It was challenging but saw great results to stay motivated. I moved to Vancouver after about 6 months after starting with Get You In Shape when I had made great progress. I was down 50 pounds in just 6 short months. I continued to follow the Get You In Shape Program (nutrition and exercise program), I have been able to continue to make progress on my fitness goals. Last time I weighed, I weighed 210 (that would be 84 Pounds Lost!) and this has been something that has just been gradually by following the Get You In Shape principles.
Jorge
Leslie Brown from Coppell, TX Lost 26 Pounds in 2 months
Hi, this is Leslie Brown from  Coppell, TX. I just finished my second month of the Get You in Shape  Coppell Boot Camp. I have lost 26 pounds and 2 dress sizes and I have TONS of ENERGY. Thanks Brad


Scott Woodby of Coppell, TX – 50 Pounds lost

Scott Woodby Lost 50 Pounds in 6 Months!
Scott Woodby
1. Basic Information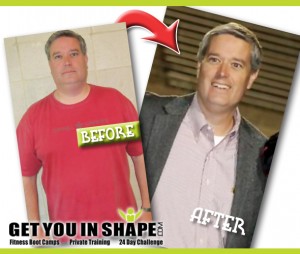 Scott Woodby
National Sales Manager; CCF Brands
Coppell, Texas
Began GYIS in April 2010
2. Where you were at in your life before Get You In Shape?
I was at least 30-40 lbs. over weight and very out of shape; walking a mile was difficult.
3. Why you decided to join Get You In Shape?
I knew that I needed to make a lifestyle change to avoid medical issues and have a longer, happier life. I saw the boot campers weekly as I drove by the park; I knew that a fad diet was not what I needed.
4. What was your first experience or first impression with Get You In Shape?
I instantly felt "at-home" with the trainers, I was glad this was not a military style boot-camp. I was encouraged to work at my own pace and "listen to my body"; the first few weeks were not easy, but I started seeing results right away and that gave me the incentive I needed to eat right and be consistent in attendance. I do travel some, so the DVD was helpful when I missed the M-W-F workouts.
5. What are some of the tools from the Get You In Shape program you have used that has helped you? The biggest helps to me are:
The Food Journal – It made me think about what I was eating and make better choices.
Accountability Calendar – Helped me drink more water and help me accountable to attend work-outs
The "Tips of the Week" – Tried new food/recipes; importance of fiber; importance of water…lots of great and easy tips.
6. How has the Get You In Shape program helped change your life? What are the results that you have achieved from the Get You In Shape program and how have we played a role in your results? I have lost 45-50 lbs since April
I make better choices about food
I eat smaller portion sizes
Clothes fit better, I look better, I feel better (both physically and mentally).
I know the key is two fold: Proper diet AND exercise…not one or the other. I continue to make goals, I am not done. I need to prove to myself that I can maintain this weight loss for the long haul – GYIS will be a big part of that!
Marie Azcona


1. Basic Info: My name is Marie Azcona, I am an administrative assistant, and live in Irving. I have been in the Get You in Shape program since June.
2. Where you were at in your life before Get You In Shape?
Before GYIS, I was in a pretty bad place, both physically and mentally. I weighed about twice what I normally should and I usually felt pretty bad about myself. Sadly, many times the highlight of my day was coming home from work and watching a recording of a favorite TV show while eating ice cream. And even worse, I would do this in secret when no one was watching. I have tried tons of different weight loss plans, and the few that did seem to work, were a short term fix and were usually followed with even greater weight gain. Honestly, I was starting to think I would never lose the weight and dreaded dealing with feeling embarrassed, tired, restricted, and missing opportunities—all due to my weight.
3. Why you decided to join Get You in Shape?
I turned 50 this year, which made me realize that time was running out for me to get healthy. I always thought that I could start next week or when some kind of event would be over, but year after year went by and my weight just grew and grew. I would avoid mirrors and cameras and was actually in denial about how I really looked and felt. Turning 50 made me take a serious look at what was going on and it scared me to know that it would only get worse. Recently, doctors had warned me that if I didn't get the weight off, I should expect to have diabetes soon and was already at risk for stroke and heart problems. I knew that I had a small window of opportunity to avoid these problems.
4. What was your first experience or first impression with Get You in Shape?

I was actually terrified the night before I started boot camp, but I am so glad that I did not give into that fear, and went anyway. Unlike other exercise classes that I have gone to, the personal trainers actually took the time to meet you and would even remember your name. I was also relieved to see how the new beginners are started out in a separate group, which helps you receive extra help and more one on one instruction, and honestly, just makes you feel more comfortable. The instructors are great! They explain the workouts very well and are patient, kind, motivating, encouraging, and supportive. It was obvious to me that this was not just a job for them, but that they are truly committed to helping you get in shape. At one point, when we were running, (which was the first time that I had run in many, many years, and was actually always really bad at it anyway), the personal trainer came up and asked me how I was. Honestly, I wanted to cry, since I felt that I would probably have to quit since it was very hard for me to run. She assured me that I should go at my own rate, and that she could guarantee that I would get better. I was shocked to find out that she was right! The other day I ran a mile and didn't stop! That was a miracle for me! But, I would have never known that I could do it, if I hadn't stuck with it. The boot camp pushes me more than I would ever do on my own and it feels so good when I am able to accomplish things that I never thought I could do before.
5. What are some of the tools from the Get You In Shape program you have used that has helped you?
One of the most important tools that the Get You in Shape program has given me, is a sense of accountability. When you are not there, someone will notice and I found that it is easier to go workout than to have to explain why you were not there. It is very hard for me to work out on my own. I have also benefited from the regular schedule that is helping me turn my workouts into a habit versus a daily decision. The regular intervals set for weighing and measuring also help motivate me to do well, since I know that that day is fast approaching, so I'd better stay on track. I've tried the 24 Day Challenge and had great results, which included learning to eat better by becoming more organized with planning ahead and actually thinking before eating. All of this is helping me become more disciplined, which helps me in all kinds of other areas as well. I've also taken advantage of some of the contests that have earned me free and discounted months of boot camp, which is great! I've also taken advantage of the info that is sent via regular emails. I've tried some of the tips on meal planning, which helped save time and money. I've also enjoyed the motivational stories and videos that help me get control of my mental thoughts. This program is not the usual situation where you go to a one hour workout and then you are on your own until the next time you show up. Get You In Shape supports your overall health with all kinds of information and tips on healthy eating, exercising, and mental focus.
6. How has the Get You in Shape program helped change your life? What are the results that you have achieved from the Get You in Shape program and how have we played a role in your results?
From the Get You In Shape program, I have lost 45 pounds and 44 inches in 6 months! At first I was very embarrassed to exercise in front of others, fearing what they would think since I was extremely overweight. At a support function given by Get You In Shape, called "Women of Strength," we were discussing issues that affect or mental outlook. I mentioned by embarrassment in the meeting and one of the instructors was so compassionate and helped me change my attitude about that. And, it was surprising to see that others in the group voiced that they had felt the same way at first, but overcame it. I now look forward to "doing" something versus "watching" something. I feel more athletic, and want to use that new strength and energy. I now regularly take the stairs instead of the elevator and walk faster to continue my improvement. I even wrestled with one of my grandkids recently, versus watching them wrestle! This past 4th of July I actually raced my grandkids to the lake (and they were in a car!). They got such a kick out of this, it made me feel so good! I have a whole different outlook, and Get You In Shape's continuous support, with information, physical activity, and even mental outlook has caused this change.
7. ADDITIONAL COMMENTS:
When I started the program, my desire was for weight loss. But now that I have started accomplishing that, I have realized that the change in the way I feel has been much, much more gratifying! I have started to accomplish something even much more important. I am starting to actually feel good about ME! That is something that I haven't felt for a very long time, and sadly, I didn't realize how badly I actually did feel about myself. When I started accomplishing things that I never thought were possible, I realized that I had been putting restricting labels on myself that had only held me back from being the person that I actually am. Even though people would compliment me on the weight loss, I couldn't see myself as successful. I was afraid that they would later realize that I was the loser that I felt that I was. I have always had a hard time accepting compliments; I felt that I was this fake that would later be discovered and I would face humiliation. Now, I am learning to stop dreaming about that thinner person I want to be, but to actually be that person, or even a better person than I thought could be possible. This past Thanksgiving, as we were mentioning what we were thankful for, my son gave thanks for his mom, who had gained confidence. I have also heard that my husband constantly brags about me! It doesn't get better than this! Get You In Shape has brought about in me is the CHANGE in the way that I see myself.
As far as, why do I think that I should win the Client of the Year contest, I cannot say that I deserve it more than anyone else—everyone works so hard! However, I can say that the changes in me have been so rewarding and I view things in such a better way, which continues to surprise me every day!
Chiffon Okuda Lost 30 Pounds on the Get You In Shape Program

Chiffon Okuda
Basic Information
Chiffon Okuda R.N Geriatric case manager for Parkland Hospital. I live in Lewisville TX and have been in Boot for almost 2 years
2. Where you were at in your life before Get You In Shape?
Before the Get You In Shape Coppell Boot I was close to 30 lbs overweight, (although I did spin classes off and on) and attempting to manage my poor sleeping and chronic pain from Rheumatoid Arthritis.
3. Why did you decide to join Get You In Shape? My brother Gray (see Gray's story below) had begun boot and challenged me to try it.
4. What was your first experience or first impression with Get You In Shape? Crazy! I signed up for the "don't gain weight during holidays 5 day a week boot camp". (This may have been my idiocy showing if it weren't for sibling rivalry) So I bit the bullet and took my pain pills and worked my butt off 5 days a week and lost 8 lbs in 3 weeks. The trainers were great motivators and managed as if we were all being "personally trained" even though we were a group. And last but not least, I proved with their help, I could do more than my younger brother!
5. What are some of the tools from the Get You In Shape program you have used that has helped you? Using a food diary to track my eating, going to the women of strength support group, reading the recipes, videos and ideas the trainers and other members use to be successful.
6. How has the Get You In Shape program helped change your life. It changed my life in obvious ways: 25 lb weight loss, less pain in my joints, improved sleep, and the most important of all: saved my younger brother's life. He never worked out, was way overweight, sedentary, dipped tobacco and had many other bad habits that could have done him in. I feared he would have his first heart attack before age 45. Now since joining boot, he is bad habit free, out running in races, trim and in great cardiovascular health. He is finally surpassing me in his fitness goals, and I no longer fear the worst, losing my favorite brother.
Finally, after 24 months I have added so much more in my personal and professional life. I have added multitudes of boot camp friends, now running in 5Ks with my brother, and can nearly do everything most folks can do that don't have arthritis. In addition I have learned so much from all the advise and training that I've decided ( in the future ) to become a part time personal trainer for people of special populations in my field ( I.e. the elderly, and folks with rheumatoid and other types of arthritis and medical conditions). I just completed my NFPT fitness nutrition certification and am starting my CPT course in January. Later in the year I hope to also become a "restorative Yoga instructor" to incorporate into my future career aspirations.
Gray Kinney
Gray Kinney

Where you were at in your life before Get You In Shape?

Before

Get You In Shape

, I think I was headed to an early grave. I was fooling myself thinking that I was doing just fine, eating out 4 times a week, drinking beer all the time and just sitting on my backside doing nothing.
Why you decided to join Get You In Shape?
I decided to join because I needed to try a different approach to getting out of the bad habits. I had joined a gym, but that did not last, and frankly I had no idea what I was doing. Going 1 or 2 times a week and jogging for 20 minutes was not doing anything for me. I soon lost interest and quit. Personally, I need a group atmosphere to keep me motivated.

What was your first experience or first impression with Get You In Shape?

My first thought was that I would never be able to do the exercises, but I was put at ease real quick when I got the personal attention from the personal trainers of Get You In Shape that I needed to start out. They all were patient, funny and knowledgeable.

What are some of the tools from the Get You In Shape program you have used that has helped you?

I think the attention to what I eat is the most important. I'm reminded all the time that you need to be careful of what you eat and how much. I drink an Advocare Muscle Gain shake every morning and have my snacks during the day to keep from stuffing myself at lunch or dinner.

How has the Get You In Shape program helped change your life. What are the results that you have achieved from the Get You In Shape program and how have we played a role in your results.

Stress relief. Get You In Shape takes stress away from me every time I work out. I feel great, refreshed and proud of my accomplishments. I feel great every time I look in the mirror and it just makes me smile. And my arms look pretty good too!
Below are more great weight loss and success stories from the Get You In Shape Program
1. Basic Information – name, occupation, where you live, and how long you have been in theGet You In Shape program.
My name is Janet Fetsch. I work at a bankersbank in Las Colinas and live in Coppell. I joined Get You in Shape in July 2009.
2. Where you were at in your life before Get You In Shape?
I was single, working at a bank in Las Colinas. I had just finished the MBA program at TCU and purchased my first house. I had already achieved many of my big goals and my life seemed very successful, but I did not feel good about myself because of my body shape.
3. Why you decided to join Get You In Shape?
I had reached my heaviest weight ever at 180 pounds and a size 14 (almost 16) in the winter of 2008. Driving home after Christmas at Grandpa's house, I had to unfasten the belt on my jeans AND unzip my pants just to breathe. I felt awful! I could not wear any of the cute clothes in my closet. I started dressing in layers, avoiding skirts, and hated looking at pictures of myself. The final straw was when I saw a picture of me at my sister's college graduation in May. My face was so round, and I was wearing a new, cute, "fat" dress. I thought, "This has GOT to stop!" I could already see that the road I was on would only lead to more problems with my self-esteem, not to mention my physical health. I knew that if I didn't have confidence in myself, no employer would promote me to the level I deserved. If I didn't even like myself, how could I ever expect the man God prepared for me to love me?
I had tried exercising on my own for several months but was not consistent and so was not seeing any results. I could not recognize any more changes to make in my own diet – I felt like it was already pretty healthy. I knew that I hated gyms – I wanted to exercise outdoors! I priced personal trainers but that was out of my price range. As in all good decisions, I prayed about it. The next weekend I looked at the church bulletin and discovered Get You in Shape!
The price was something I could afford, and was willing to pay to get results. Based on the testimonials featured on the Get You In Shape website, I thought it sounded like a great value. The pictures showed people of all shapes and sizes having fun, exercising outdoors in a beautiful park. And, they promised that despite the term, "boot camp", they would not yell or be mean!
4. What was your first experience or first impression with Get You In Shape? Personal Trainer's Brad, Cynthia, and Julie were very friendly at the information session. I thought I would just attend that, and consider joining later. But they were so welcoming and genuine that I decided not to wait another month.
Julie was the trainer for us new members during the first week. I was happy that I recognized many of the exercises from my high school coaches, so I didn't have to learn too many new movements. And, Julie was such a good teacher that she made it easy to learn everything we needed to know.
During my first month I was impressed at how many members had been a part of the boot camp for an extended period of time. They told me they got results, did not get burned out, and they enjoyed the people they were meeting! I couldn't wait to become a "long-timer"
5. What are some of the tools from the Get You In Shape program you have used that has helped you?
Cynthia's nutrition counseling made all the difference in the world for me. The exercise is amazing – I had become a happier person, my body felt great, I was sleeping well every night – but I went nearly two months without losing a single pound! After talking with Cynthia, I started keeping a food journal and discovered that even though I was eating a balanced diet, I was consuming too many calories, and that was keeping me from losing the weight.
6. How has the Get You In Shape program helped change your life? What are the results that you have achieved from the Get You In Shape program and how have we played a role in your results?
It has been 18 months since I started the Get You in Shape program. It took one year to reach my goal weight and size, and I have maintained it now for six months. Making small steps over the course of that year allowed me to develop good habits. Nothing was overwhelming about this program.
Because I was exercising regularly and my eating habits improved, I was able to withstand a very stressful time in my work. I was rewarded this summer with a promotion! After losing that first dress size, my self-esteem improved enough that I joined Toastmasters, a public speaking club, and now actually enjoy speaking in front of other people. I have been dating a very nice guy for several months now. He says that I caught his eye at a party where I was laughing and talking with friends, and he was attracted to my self-confidence. He could tell early on that I took care of myself, and was not the type to let anyone hold me back.
Get You In Shape provided everything I needed to achieve goals that I had never been able to do before in my life. Brad, Cynthia, Julie and Cheney are truly the best mentors one could ask for. Their warm and friendly personalities
Coppell Mom Loses 16 Pounds in 2
months in the
Get You In Shape Boot Camp.

Coppell, TX – Fitness Boot Camp
helped
this coupleget in shape together,
lose weight together, and have fun together
Chris Nelson, from Valley Ranch, TX
loses 50 Pounds
in 6 months of
Dallas, TX – Wendy Fox of Dallas, TX.
The
Get You In Shape Boot Camp
has help increase my
metabolism, help lose 15 pounds, 15 inches, drop 2
dress sizes and feel healthier.
The
Get You In Shape Boot Camp
helped
me lose 19 pounds in 4 weeks.
Siblings use boot camp help get
more energy, lose weight, and increase
their health.
Coppell husband and wife
Get In Shape together with

Fitness Boot Camp