Coppell Personal Trainer and Dallas Area Fitness Training from Get You in Shape


Get You In Shape's Founder, Brad Linder, hand selects each Certified Personal Trainer to fit the TEAM of trainers that all work together to help each and every client reach their goals. Get You In Shape's personal trainers are committed to serving their clients and the needs of others to make health and fitness a lifestyle.. Each Certified Personal Fitness Trainer has a top certification with extensive experience in health and fitness. They all must have a passion to help others achieve their goals.
Julie McCan
Certified Personal Trainer
American Council on Exercise
Julie currently leads and assists the Get You In Shape Fitness Boot Camps.
Julie spent 24 years in telecommunications industry before making the decision to retire from corporate life and embark on a journey to find a new passion.   Since high school, personal fitness and overall wellness has been important to Julie.   Once retired, she was able to refine her focus on her fitness and health goals.
After losing over 15 pounds through diet and exercise, she decided to try one of Brad's Boot Camps to push her to the next level.  Not only did she find what she was looking for in a total body workout, she also discovered her new passion may be in helping others with their fitness goals.  Timing could not have been better since Brad was looking to grow his business and found Julie to be a great fit with his desire to "hand pick" his team and help them grow into personal trainers that can motivate, challenge, instruct and ultimately lead Get You In Shape Fitness Boot Camps.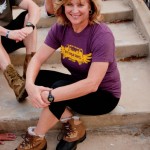 Julie has a great deal of empathy for Boot Camp clients that struggle with keeping their fitness and health goals as a high priority.  Her background,  that included various high stress management positions, lots of travel, and a family life to juggle, mirrors many Boot Camp clients.  Julie has been a resident of Coppell, TX since 1984 and feels a strong connection to the community and its residence.  Being able to help people in her own community is just one more perk in realizing her passion.
It is in a large part due to the strong support of Julie's husband, Chuck and daughter Erin (a 2007 CHS graduate and graduate of Colorado State University), that she has been able realize this passion.  Through continuing education, certification courses and support from Brad Linder, she continues to learn and grow in her role as a personal trainer.  However, the biggest reward for Julie has been to actually see the joy in clients when they realize their own fitness goals and see results from Get You In Shape Fitness Boot Camps.
The Get You In Shape Team of Personal Trainers & Fitness Trainers serve clients who live and work near Coppell,  Valley Ranch, Lewisville, Carrollton, Flower Mound, Dallas, Irving, Highland Park, Plano, Grapevine, Southlake, Uptown, Lakewood, Highland Village, Corinth, Addison, Frisco, and other Dallas Cities.
"For I know the plans I have for you," declares the Lord, "plans to prosper you and not to harm you, plans to give you hope and a future." Jeremiah 29:11