Coppell's #1 Transformation Program since 2007
"FIN

ALLY! A Coppell Weight Loss & Fitness Program That

Produces

LONG LASTING & LIFE CHANGING

Results

"
FREE 7-DAY TEST DRIVE
Hi, and welcome!

Can I ask you a few questions?
Are you tired of NOT working out with people your own age?
Do you want to look and be in the best shape of your life, but feel totally confused about where to start?
Are you looking to more accountability, support and coaching to help you reach your goals and also maintain your lifestyle you desire?
Would you like to find a solution that is based on years of hard work and proven results, not hype?

Have you tried so many "diets" that you have grown to loath that word?
If you answered YES to any of the above questions then I want to encourage you to call us today at 214-603-8287 or apply below to FREE TEST DRIVE our program out for 7 Days.
Since 2007, Get You In Shape has a track record of helping hundreds of Coppell area men and women change their lives .
Our Group Personal Training program is specifically designed for people who want to workout with a passionate and fun group of like-minded people who have a passion for becoming more, being more and doing more. In fact, we have over 630 actual video success stories from people right here in the Coppell area to prove it.
We specialize in a complete program helping people with mindset training, accountability coaching, nutrition and our Group Personal Training Program in Coppell. We are known for putting ALL fitness levels in a positive group environment that creates motivation, encouragement, inspiration and accountability.

If you've read this far then it's clear to me that you're truly serious about making a positive change in your life and you want more than ever to sculpt a strong, slim and sexy body that gives you the confidence you deserve.
Most people want it, but few will actually do anything about it so let me first take a moment to acknowledge you for taking this first step.

Here's what this is all about..

We've developed a Group Personal Training Program that's unlike anything you've ever tried in the past. And it's guaranteed to work for you and get you moving toward your health and fitness goals.
We are looking for men or women that are looking to transform their bodies and not only like, but LOVE how they feel!

There's no dieting, no drugs and no gimmicks. Because that stuff doesn't work (and can damage your body).

I want to be very clear – this may be an important consideration for you – our program is NOT for people who want to "get their butts kicked" or walk out of a workout feeling like they've been hit by a bus.
Our workouts are scientifically designed to deliver body-transforming results AND make you feel & move better than ever before.
Form and function are two very important factors in our training program – don't worry, we'll educate you on both.

Finally, before I get into some of the details, I also want to share with you that Get You in Shape is a small, family-owned business that puts a real emphasis on relationships.
Just like Norm on Cheers, we are a place where "everyone knows your name".
We consider our clients a part of our Get You In Shape Family and they share the same view.
We're NOT like a big-box facility or a national franchise that basically rents you equipment and may offer some personal training services for a few hours per week.
Our clients' success goes beyond the programs and services we offer.

The relationships we create and our clients' strong desire to do business with US is how we can truly make a difference in their lives. But don't take my word for it, check out our 630 plus YouTube Success Stories on our Playlist below. These are REAL PEOPLE with REAL Success Stories.!

Secure Your Spot Below!
At Get You In Shape.... You're Not Just Another Number
We've Helped 1000's of Local Area Coppell Residents Finally Get the Body of Their Dreams and We Want to Help You Get Yours Too! In fact, we have over 590 Video Testimonials on our YouTube channel alone.
"My clothes fit better and I feel stronger– I am actually pinning up about an inch in my work slacks until I can get them altered. I do sleep better and my energy levels are now pretty constant throughout the day."
Karen H. Market President at Frost Bank and volunteer and Mayor of Coppell, TX
Just imagine…after a few months with us, you'll be sharing your success story, too…
What You'll Get With Your FREE 7-Day Test Drive...
1 Strategy Session

- to prepare you for your 2-Week Test Drive! (value $79)

3 Group Personal Training Sessions

in the 2-week test drive! (

value $159-$199/month

)

2 Interval Based Cardio Sessions

- Interval based cardio program that is led by a GYIS Personal Trainer.

($60/month)

Up to 5 Total Sessions

in 7-Days.

Get You In Shape Program Guidebook

- This is the 101 guide to help you get off to a FAST START! (

Value $79

)

Education & Nutrition Tips

- Weekly tips that will help maximize your results! (

value $99

)

Fitness and Nutrition Journal

- Discover how Get You In Shape can help double your results by using this simple to follow program. (value $47)

Accountability

- Put yourself in a positive and healthy environment that creates motivation, encouragement, inspiration and accountability. (value = Priceless)

Nutrition Plan

- You'll get access to Get You In Shape's proven step by step ("follow the darn instructions") nutrition plan. (

value $150

)
ALL That For FREE for the first 7 Sign Ups

YES. That's Right. Coppell's #1 Transformation Program Since 2007

NOTE : We limit the number of sign ups to the first 7 people so that we can continue to provide the level of personal training service we are known for in Coppell.
SIGN UP BELOW!
REAL PEOPLE ... REAL RESULTS
YOU COULD BE OUR NEXT SUCCESS STORY!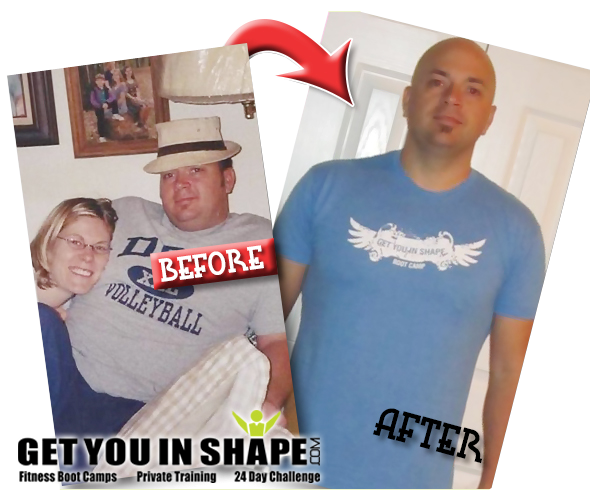 REAL PEOPLE ... REAL RESULTS
BE OUR NEXT SUCCESS STORY!

FAQ
Here are answers to some frequently asked questions:
Where are the Get You In Shape Fitness Sessions Held?
I'm not in good shape. Can I participate in the program?
Can men participate and what are the ages?
What type of exercises and activities are in the program?
What about cold weather or rain?
What are the session times?