Coppell Fitness – Get You In Shape's  FAQ's
The Get You in Shape Coppell Team Fitness Training & Group Personal Training Camp:
What exactly is the The Get You in Shape Team Training  (Fitness Boot Camp)?
Our Group Personal Training or Team Training (Fitness Boot Camp) is a total fitness program held outdoors (see below if there is inclement weather) that provides instruction on fitness and nutrition, with generous heapings of motivation and fun! The Group Personal Training  (Fitness Boot Camp) is ran by Dallas and Coppell's world-class fitness instructor: Brad Linder and the Get You In Shape team of personal trainers. Brad is a certified fitness professional with over 20 plus experience helping over 4,500 Dallas and Coppell area participants. The Coppell Get You In Shape  program consists of resistance training, calisthenics, light running and body weight exercises. Small dumbbells, battling ropes, kettlebells, medicine balls are also used. The goal is to get you moving, elevate your heart rate and build lean muscle so your body burns twice as much fat. It's also good to know that clients are only pushed at their own personal fitness level.
We help ensure that you are doing the exercises right so that you get the most out of each calorie burn in exercise and also reduce the chances of injury.
NOTE: Ladies, do not worry you will not get bulky. Muscle
is more compact and smaller than fat. Also, it's much more shapely.
Replacing fat with muscle will make you smaller, tighter and firmer your
dress size will go down, not up!
Isn't it time you got the body you always dreamt about? With our Get You In Shape Program you will immediately:
* Improve your ENERGY level
* FEEL better physically
* Experience an EMOTIONAL and SPIRITUAL LIFT
The Get You In Shape Group Personal Training program includes:
14 Fitness Sessions/month. 3 times a week for 4 weeks with a Professional Fitness Trainer  and 2 Saturday sessions.

1 GYIS  5k held on once a month
Access to all 6 Get You in Shape Fitness

Session times

(VERY FLEXIBLE)
Free Nutrition Program
Free New Member Orientation
Free Before, during and after measurements
Free Nutrition and Fitness Consulting throughout the month.
Free Emails throughout the month with tips and advice given only to Get You In Shape clients to help with motivation and accountability.
Free accountability Calendar for the month.
Free Get You In Shape Workout Workbook (if you can't make it to the fitness session )
Free Get You In Shape Healthy Recipe Book
Free motivation and encouragement by other GYIS clients looking for the same results as you!
Free Access to The Get You In Shape Member site

A proven program – Our program has been featured on The Doctor's TV show, ABC news, and other media outlets as a leader in health and fitness.

A ticket you look, feel, and perform better!

After looking at the testimonies, seeing what all you get, what you you pay for a program that finally would work for YOU?

GUARANTEE – YES..We do have a 100%  Guarantee
What if I'm not in very good shape?
We use progressive programming at The Get You in Shape Team Training. That means each person goes at their own personal fitness level.  If you're not in very good shape, we'll start you slow (there will be others in the same boat, so you won't be left behind), but work you up to speed more quickly than you can probably imagine right now. The amazing thing about the human body is how it adapts quickly to proper stimulus. We will SAFELY challenge you never more so than you can handle. With years of experience working with of all ages and fitness levels, we have this progressive programming down to a science.
Just know that you are welcome at  Get You in Shape regardless of your level of fitness, and you will not feel out of place, even if you think of yourself now as being totally out of shape. You are not alone. Help is here, both from us (your instructors) and the friendly, caring support you will receive from others. We work as a team, inspiring and being inspired, and everybody wins!
Why is is not called the Get You In Shape Boot Camp anymore?
The Get You In Shape program is more "Personal Training in a Group Environment". It's called Team Training because we feel that you truly do below to a TEAM as our fitness community all comes together to motivate, encourage, inspire and keep each other accountable.  We provide a different experience than most "boot camps' around so we do not want to have the impression that our program is a boot camp. In 2007, when we were one of a few outdoor fitness programs in the Dallas area and many loved the term boot camp back then. Now, any personal trainer can start a boot camp and you can find options around. Since our program is unlike any program you will find, we are more known as personal training in a group environment where our clients get the best of both worlds., a personal training and a supportive group that are the same age as them.
Everything you would expect to get if you hired a personal trainer or a fitness trainer and paid them $50, $75, $100 or up to $200 per hour. This includes help with a nutrition program, motivation, accountability, tools, tips, emails, calls,  and the list goes on. Having experience since 1998, owner Brad Linder has proven programs and the Get You In Shape Group Personal Training program is now considered one of the best fitness companies in the state. Just check out our YouTube playlist of well over 600 Client Success Stories (that's just people who shared their journey via video) to see that we do a lot more than just conduct a fitness class.
Who is the Get You In Shape Fitness Team Training program for?
Anyone looking to jump start their
weight loss plan

Anyone looking to get back in to
shape

Anyone looking for a "Program" and
not a class

Anyone looking for a group
environment that provides motivation and support

Anyone looking for professional help
in fitness & nutrition

Anyone looking for accountability and
motivation

Anyone looking for a dynamic, new,
and exciting exercise routine

Anyone looking for help in learning
new and effective exercise techniques

Anyone that is tired of working out
inside a gym

Ages 13 and up
Help is here, both from us (your certified personal trainers and coaches) and the friendly, caring support you will receive from our amazing clients.  We work as a team, inspiring and being inspired, and everybody wins!

Can men participate in the Get You In Shape Team Training program? What about ages? The Get You In Shape  Fitness program is for men and women of all ages, shapes and fitness levels. The majority of our clients age from 45-65 so we customize a program based on that. The workouts were programmed so that physical abilities ranging from beginners to athletes can benefit from the Get You In Shape program ( Coppell Fitness Boot Camp ).  Some of our best results come from a husband and wife joining together to push each other so certainly know the benefits of men and women working out together.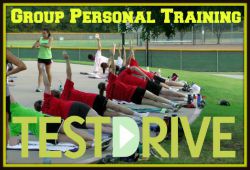 Where is the location we will meet?
Coppell Location
Get You In Shape is located in Coppell  is at Andy Brown Park East in Coppell,
TX. You get a beautiful view of the Lake with the added benefit of the
beautiful scenery of the park. Andy Brown Park East is right next to the
City of Coppell Aquatics and Recreation Center
260 East Parkway Blvd.
Coppell, Texas
Click For Map
What types of exercises and activities are included in the program?
First let me say that everything we do at Coppell's Get You In Shape is FUN. You will never be doing long, boring cardiovascular exercise or painful, hard, heavy lifting. Those days are gone.
Resistance Training or strength training along with some cardio will be the majority of the workouts. Studies show that resistance training is very effective in the process of getting rid of body fat and getting in shape. The Core muscles will be a primary target as strengthening your core muscles helps to support your spine and keeps your body stable and balanced. Yoga, Pilates, Resistance Training, Core work, and other forms of exercise are just some of the areas of focus to get a great full-body, calorie burning, shock your body workout session each and ever time.
The bottom line is that you can do it all, and with our progressive programming you can start at a pace that's comfortable for you, and increase your intensity under our supervision and instruction, safely and measurably, quicker than you can imagine. That's how you get results!
What if I do not know how to exercise properly before starting with Get You In Shape Fitness ?
Each participant will be taught how to perform each exercise correctly and each exercise has a progression level from beginner levels of fitness to advanced. Each person will be going at their own fitness level throughout the fitness program, and progress at their own pace. The certified professional fitness trainers will help explain and assist in the different progressions.
How often will we meet for Get You In Shape Team Training ?
The Coppell Get You In Shape Group Personal Training program meets 3-4 times a week which comes out to 14 sessions each month. Click Here for our Get You in Shape Accountability Calendar. Each exercise or workout session will be about one hour long.
Each fitness session will last for one full hour, including warm-up and cool-down. There are bathrooms at the location in case you need them. All that we ask is that you arrive on time and ready to go.
What about bad or cold weather during the Get You In Shape  Team Training?
The Get You In Shape Fitness has both the amenities of working out outside but also the availability of the Coppell Aquatics and Recreation Center when the weather is too cold. We have been going at this since 2007. We use the weather.com app and it it feels under 30 degrees we are inside the CORE (Coppell Rec Center)  for the 5:30am, 6:30am and 8am sessions.  The noon is normally on a case to case basis depending on the wind and sun.  All evening sessions are outside regardless of the weather. That is one of the many things that set this Fitness program apart from others. Most Fitness Boot Camps that are held in parks do not have access to facilities if it rains or is too cold. If it does rain, we are either under the big pavilion by the out door bathrooms or inside the Coppell Aquatics and recreation center (evening are under the pavilion)
Just how many times will I get to workout with the Get You In Shape  Team Training and how long does it last?
The Get You In Shape Group Personal Training program is a year round program. Each 4 weeks, though, we  meet 3 times per week with 2 Saturday Sessions. There is also one monthly GYIS 5k that we do to help build community. We do take 4 weeks off throughout the year which are Spring Break, around 4th of July, Thanksgiving and Christmas.
Each Get You In Shape fitness session is for one hour and we cover every fitness component from cardio endurance, strength training, agility, speed, balance and flexibility. It is called " Boot Camp " primarily because it is an outdoor fitness program that helps get you in shape. Get You In Shape's trainers do NOT wear army gear, do NOT yell, but rather help encourage participants to reach their own fitness goals. Check out the About US page Here and read Get You In Shape's Core values
Who teaches the Get You In Shape Group Personal Training Camp?
The Get You In Shape Team of fitness trainers and personal trainers consists of highly professional individuals that are driven by YOUR success. You will be pushed to your personal limits in all the activities. We pride ourselves on providing participants with the most effective exercises and techniques, but with safety and individual abilities being paramount. This is not your typical boot camp where the instructor wears fatigues and combat boots. EVERY LEVEL of fitness has participated from NEVER worked out before to spin instructors needing a boost.
Click here to see the Get You In Shape team of personal trainers.
Why does the Get You In Shape Fitness program is performed in a group setting?
The group environment promotes encouragement and motivation, while exercising and pushing each other, as a group it is a supportive and inspiring approach. Getting started, staying, and sticking on fitness program is always tough to do. Get You In Shape Group Personal Training program allows the process to be a much easier and better experience than trying to do it on your own. Each participant is put in an environment that only creates success. Whether your goal is to lose weight, tone up, trim down body fat, get in shape, try something new, or just to be healthier, the Get You In Shape program is for everyone. Another great benefit from performing the fitness sessions as a group is that each participant only pays a fraction of what they would pay to get personal training from a top personal trainer. You not only get the group motivation AND the personal attention, but you also get it at a far less expensive cost allowing you to participate in six months what personal trainer would cost in one month.
How will you measure my progress?
Before starting you will have a Goal Setting Success Session that will get your initial weight and measurements. What we watch and measure improves! That's our motto here, and it will become yours, as well. It's vital that we ascertain a baseline of where you are today, so that we can document how far you come in just a few short weeks with us. Nothing is as motivating as seeing your body change before your eyes. But since we do provide measurements every two weeks year round it helps create motivation to see progress in a short time.   So we establish the baseline for you with measurements and weight. Although, I will tell you that most ladies are very eager to show the world their accomplishment!
The whole point is to measure your improvement every few weeks so you can feed off that achievement and keep going strong! It's not uncommon for you to see dramatic body fat reductions over just four weeks.
When does the next The Get You in Shape Dallas and Coppell Fitness Program Start?
Please see our annual calendar.
What should I bring with me to the fitness sessions?

Hope, Belief, Positive Attitude, Trust, and Consistency- all these will help you get the best results in just 4 weeks.

Exercise mat. You will be on hard ground, so you will want a thick mat.

5 pound weights for most people. (8 lbs or 10 lbs depending on your fitness level)

Small Towel

Water

Sunscreen – For those session times that are in the sun.
What sort of results can I expect to achieve at Coppell Get You In Shape?
Besides the body transformation you'll experience, the biggest achievement is the sense of satisfaction and accomplishment you get from taking care of your health. If you've never experienced it, you are in for a real treat, because nothing can make your life more full, rich, balanced and positive than exercise. If there is such a thing as a panacea, something that cures everything, it's fitness.
The body transformation will be a wonderful achievement, and you can expect to see your body become toned, tighter and considerably more firm. Your energy levels will soar. Stress will be totally controlled, and in some cases, even disappear. Your stamina and strength will increase, your body fat decrease by as much as 3% – 8%, you can lose a minimum of 5lbs – 12lbs, your thighs and tush will firm up, your tummy flatten. Inches will literally melt away as you add lean muscle and lose unwanted fat. Your skin will glow, your eyes clear, and you'll sleep like a baby.
I know, I know, that sounds like hype. All I can say is this: once you experience it, you WILL believe it. And in addition to all that, you'll meet great people, make some new friends and have a heckuva lot of fun!
This is proven program that works if YOU work! It is a work program where you will obtain great results by following the program and tools that are given to each and every participant. In general you can expect in one month*:
4-7 Weight Loss

12-15 Inches lost

Increased Energy

Many health benefits that come with being healthier!
*results vary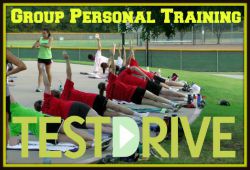 How much does The Get You in Shape Group Personal Training program cost?
If you compare this to any other options, you will see there is no other fitness solution that even comes close to giving you this much value for the investment. The reason group fitness programs are exploding across America is because you get the best results in this type of environment, with this type of fun exercise, instruction, coaching and support, and they get the results FAST.
Again, I don't expect you to take my word for it, that's why we offer you the opportunity to come see for yourself.
We "get you in, get you out and get you fit". That's our slogan, and we live up to it. Get You In Shape is fast and fun, with not a moment wasted. You are burning calories at a high rate, and then continuously thereafter as a result of the exercise you did and the lean muscle you build. And our location could not be more convenient.
If you are looking at the basic pricing, we have 5 different program options to choose from when starting that range from $30/week to $55/week.
Will the exercises I do at Get You In Shape make me sore?
It's completely normal to feel some soreness for the first few days of starting any new fitness routine. You are moving and using muscles in ways you probably have not for some time, maybe ever. We make sure to warm you up properly, cool you down right, and stretch, stretch, stretch. And that alleviates much of the soreness, but still, some soreness is normal. And frankly, the mild soreness lets you know you're doing great work!
What types of people get the most benefit from The Get You in Shape Team l Training program?
The people who get the best results are not categorized so much by body type, age, fitness level or demographics. They are categorized by attitude. If you come ready to may a lifestyle change, are willing to follow a proven program, inspire and be inspired, push yourself a little beyond your normal comfort zone and have fun in a supportive environment designed to really bring out the best in you, then you can expect phenomenal results.
Like everything in life, you get out of it what you put into it. But one of the great benefits of our program is that you are led by knowledgeable, expert fitness trainers who understand what you need and how to give it to you, how to motivate you and how to hold you accountable so that results come fast! Plus you will be surrounded by an incredible group of like-minded people who will help encourage, inspire and motivate you as you get started.
Do you guarantee results?
Yes. Absolutely. If you follow the program as instructed and still do not get results, you can request and receive a full refund of your tuition. It's worth noting that this has never occurred to date, and we do not anticipate that it ever will, but we offer it nonetheless to ensure you feel 100% confident that we stand behind The Get You in Shape Fitness Camp and are fully committed to helping you get your body back! We go through the 100% satisfaction Guarantee we have each new client sign before signing up with our program at the consultation/New Member Orientation.

What can I expect on a typical day at Get You in Shape?
Expect FUN, expect excitement, expect to never be bored, always be stimulated, challenged (just enough) and to always leave feeling charged up, energized, full of life and feeling great. Expect to feel lighter in body and spirit. Expect to feel healthier and have a real zest for the day ahead. Expect to seize every opportunity, smile a lot, laugh, enjoy and love. That's what you can expect every single day from the Get You In Shape Fitness program. Again, I realize that sounds like a big promise, maybe even too big. But it's true. I know it because I live it every day. And you'll know it soon enough, as well. But if you're skeptical, that's okay, and that's why we offer you the opportunity to try out boot camp at no cost and with no obligation.
How quickly can I expect to see results in the mirror?
It took time for you to get where you are today, and so it's only natural that it will take a little time to see dramatic changes. But you will most definitely experience performance, strength and conditioning improvement, sometimes in as little as three to four days.
See-it-in-the-mirror results can take 14 days or more, depending on how much effort you put into it. Again, it's all about attitude. If you show up ready to put in the effort while you're at boot camp, and you follow our nutritional guidance (without traditional dieting don't worry about that nonsense, we don't play those games) of eating smaller, more frequent meals and healthy snacks while you're away from boot camp, you can expect to see real transformational results by the end of the four weeks. 1-2 dress size reduction, 3-8% body fat reduction and a minimum of 5-12 pounds of weight lost, is not uncommon and absolutely within your grasp. We'll help you every step of the way, and motivate you to succeed!
What happens when the program ends?
We give you a few different options starting out and it's entirely up to you how long you want to commit to. If you want to continue on your health and fitness journey with us, then we will give you the opportunity to sign up again and keep the progress going. Most will choose this option after seeing just how much fun this is, how motivational and supportive the environment is, and how comparatively inexpensive it is for the value you get. Nothing can compare to The Get You in Shape Group Personal Training program when it comes to getting you the life-changing, body-transforming results you want, in the shortest period of time. And should you choose to re-enroll for another class, we will welcome you with open arms!
Rest assured that if you do choose to sign up again, because of the progressive programming we provide, you will always be challenged and always be moving forward, getting ever-increasing results, and a more firm and fit body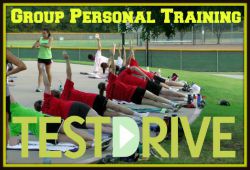 Dallas Boot Camps  and Coppell Boot Camps
If you live or work in Dallas, Uptown, Lakewood, Downtown Dallas, Highland Park, University Park, Lake Highlands, White Rock Lake, Richardson, Mesquite, Arlington, Grand Prairie and other Dallas cities, the Dallas Boot Camp  is minutes away from you. If you live or work in  Coppell, Valley Ranch, Irving, Lewisville, Las Colinas, Carrollton, Flower Mound, Grapevine, Addison, Corinth, Highland Village, Dallas, and Famers Branch, the Coppell Boot Camps are just minutes away from you. Get You In Shape Boot Camp.
Get You In Shape programs include the Get You In Shape Coppell Fitness Boot Camp, sports specific training, weight loss programs, wellness plans, nutrition plans, core fitness training, strength training, toning and more. Clients include corporations, athletes (golf, basketball, tennis, football, track, baseball, baseball, volleyball, and softball) corporate executives, professionals, weekend warriors, cheerleaders, dancers, models, stay at home moms, and anyone looking for results.