Get You In Shape's 13th Annual "Turkey Bustin" Workout to Help Feed The Hungry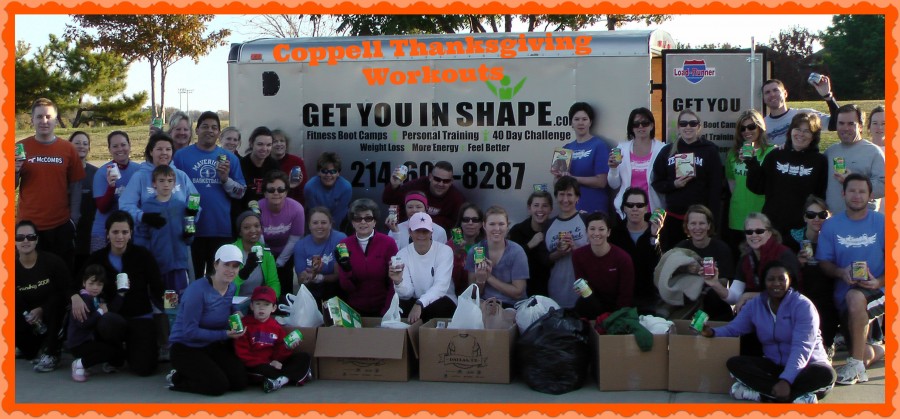 Turkey Bustin Charity Workouts to help support the local CCA!
---
Get Fit!

The Turkey Bustin Workouts are designed for you to burn the MOST calories as possible at your OWN FITNESS level.

Have Fun!

The workouts are also designed so that you bring your friends and family to make sure you HAVE FUN while burning calories at the same time :)

Make a Difference!

Giving can goods to The North Texas Food Bank allows you to make a difference in our community. Your small donation will benefit CCA.
Sign Up Below For Our Turkey Bustin Workouts

Coppell, TX- Just bring a can of food and you can work out at Coppell's leading fitness boot camp on Wednesday, Nov 24th and Saturday, Nov 27th for free. Brad Linder, owner of Get You In Shape, calls them 'Turkey-Bustin' Workouts because they burn off those monstrous calories we all consume on Thanksgiving.
"This is our thirteenth year to sponsor this annual tradition," says Linder. "Thanksgiving is such a wonderful time to gather with family and friends and a perfect time to show our appreciation for all we have, especially our health."
The 'Turkey Bustin' workouts are open to all Coppell area residents, their family, and friends on the Wednesday and Saturday of Thanksgiving week at 8:00 AM. The cost of admission is just one can of food or food item to fill the pantry at Christian Community Action (CCA) in Lewisville. Food items in high demand this holiday season are: Cooking oil, Baking goods (sugar, flour, cake mixes, etc.), Canned meat /fish, Canned vegetables and fruit, Helper mixes (tuna, chicken, hamburger), Household cleaners (laundry soap, trash bags, multi-purpose cleaner, etc.), Hygiene products (shampoo, soap, toothpaste, etc.), Paper goods (toilet paper, paper towels, Kleenex, etc).
"All that we ask is that folks register in advance on this page so we can be sure we have enough instructors and equipment on hand to accommodate everyone," says Linder.

After you register below, we'll email you all the information you need to attend the Free Fitness Sessions!

"Our Fitness Program is perfect for all folks regardless of age or fitness level -- we make everyone feel welcome and customize the workouts so everybody gets what they need."

Get You In Shape's Turkey-Bustin Workouts will be held at Coppell 's Andy Brown Park East.
"Every year we have had a great turnout because folks enjoy working out with family, friends and friendly people. Also because we're supporting a great cause; Christian Community Action (CCA) in Lewisville helps so many less fortunate families. It's a great way for us to give thanks for our health, our families, friends and good fortune, and help others
Sign Up Below For Our Turkey Bustin Workouts

Here are a few picture from past Turkey Bustin Charity Workouts.. please sign up above to help make this event a success for CCA!