<
Nausheen Barister is a stock trader and lives in Lewisville.
Why did you decide to join the Get You In Shape program?
I have always walked and hiked but never really done a lot of cardio. During COVID spent less time moving around and more at the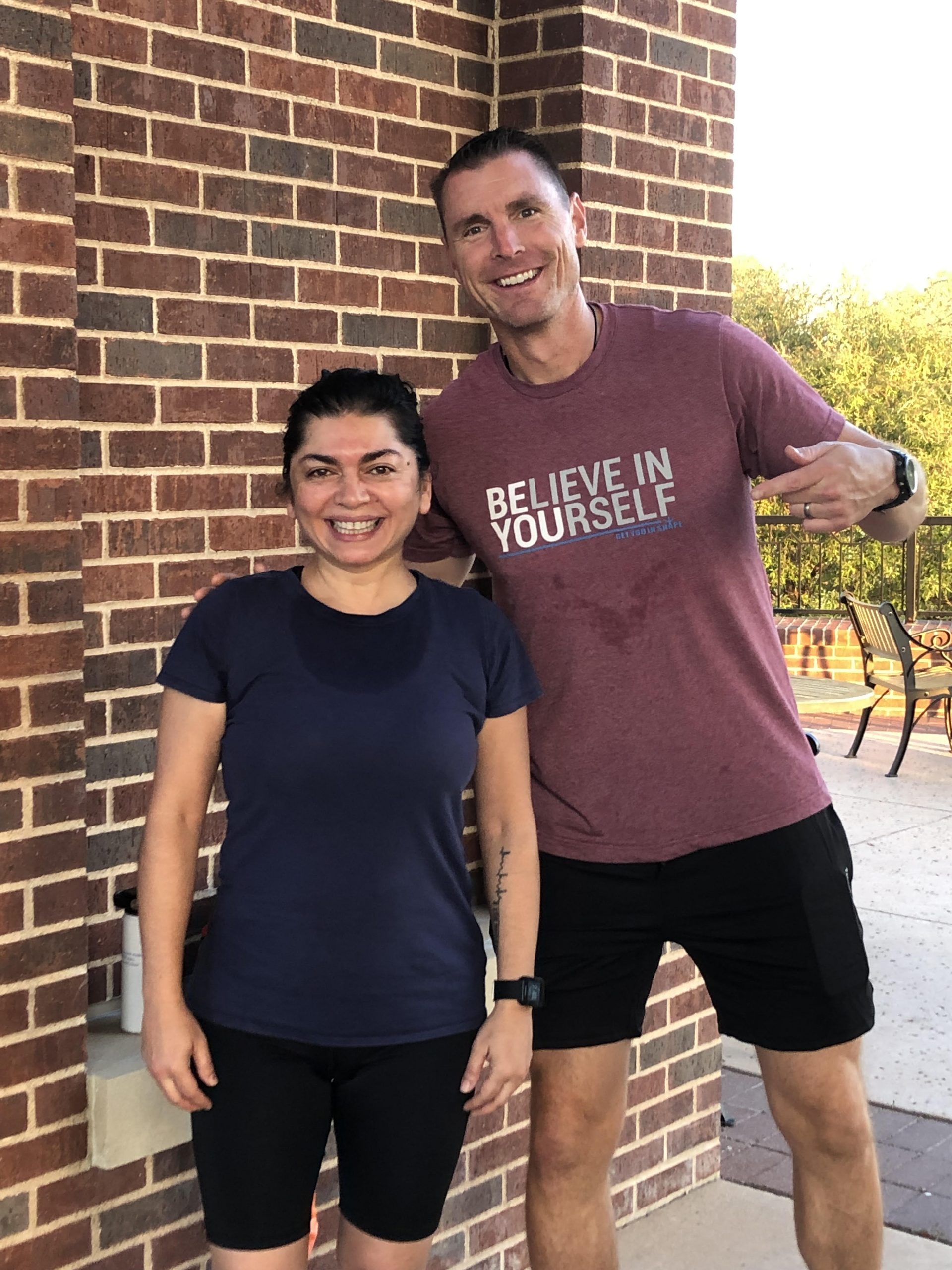 desk on my computer and a lot of mindless eating. I was getting ready to make some changes and join a gym. I bumped into a friend (Cindy H) and she convinced me to try this class before joining the gym and that was it.
What was your first impression from the Get You In Shape program?
My first impression was that everyone was really friendly and it was a very diverse group. But also, challenging and would require work.
What have been some of the tools you have used that have benefited you?
I think the apps are really helpful. I've been using MyCoach and MyFitnessPal. It really helps keep track of food and all the things I need to do daily.
How is the Get You In Shape program different from other programs you have tried before?
I love how the workouts are all different, it's not repetitive so you don't get a chance to be bored. Accountability is huge for me. That's the one thing that keeps pushing me to make sure I do what I'm supposed to and to keep getting better and doing more.
What results and benefits have you experienced in the Get You In Shape Program?
Every time we did the weigh in I saw small changes. So far in the last 3 months I have lost 4 pounds and 5 inches overall. But most of all my self-confidence is up, and I feel comfortable in my body.
What would you say to anyone looking at this program?
This is the perfect program if you like a challenge and you want to be held accountable. It's like being part of a big family where you always feel welcome.
For more information about the Coppell Fitness program and getting started, go to http://CoppellFitness.com
If you live or work in Coppell, Valley Ranch, Irving, Lewisville, Las Colinas, Carrollton, Flower Mound, Grapevine, Addison, Corinth, Highland Village, Dallas, and Farmers Branch, the Coppell Group Personal Training is just minutes away from you. Get You In Shapes programs include the Get You In Shape Group Personal Training, 24 Day Challenge, sports specific training, weight loss programs, Corporate wellness plans, nutrition plans, core fitness training, strength training, toning and more. Clients include athletes (golf, basketball, tennis, football, track, baseball, baseball, volleyball, and softball) corporate executives, professionals, weekend warriors, cheerleaders, dancers, models, stay at home moms, and anyone looking for results.
Owner Brad Linder, has been featured in numerous newspapers and even as the fitness expert on the news 8 (ABC). Get You In Shape was also featured on The Doctors TV show as one of the top Fitness Companies in Texas. He continues to use the gifts that he has been given to help serve the needs others have when it come to being healthy, losing weight, sports, toning up, and overall fitness.
More information about Get You In Shape at www.getyouinshape.com