Patty Mallard is a teacher and resides in Coppell, TX.
Q: What was your life like before re-joining the Get You In Shape Program?
Due to the pandemic, I was no longer working, had stopped exercising and gained weight.
Q: Why did you decide to join the Get You In Shape program?
I knew I needed to do something and everything about the program appealed to me….being outside, variety of class times, accountability built in, able to modify program due to knee injury. Also, because its local, my husband agreed to do it with me which adds another layer of accountability.
Q: What was your first impression from the Get You In Shape program?
I felt comfortable with the program right from the start. It was hard for me as I had been inactive for so many months, but I knew it would get better, and it did. Everyone was very encouraging.
Q: What have been some of the tools you have used that have benefited you?
I used the My Fitness Pal and logged my meals for the first few weeks to get my diet back on track, I comment on the web site after workouts, I did the attendance challenge for July (and won a gift certificate).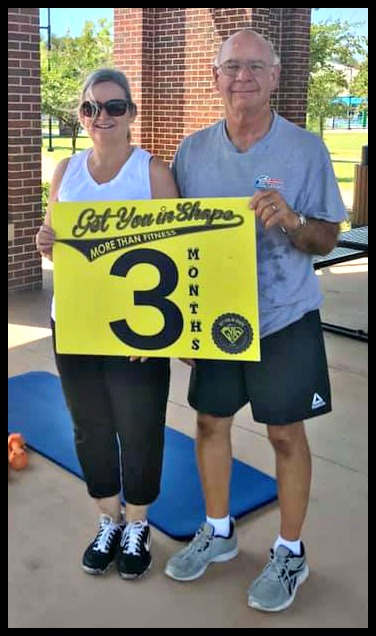 Q: How is the Get You In Shape program different from other programs you have tried before?
I like that the accountability is built in, rather than me creating it. I also like the feeling of community and the encouragement.
Q: What results and benefits have you experienced in the Get You In Shape Program?
We've been coming consistently for 2 months and I'm down 10 lbs. I definitely feel better, have more energy and productivity and have drastically cleaned up my quarantine diet
Q: What would you say to anyone looking at this program?
It's a great program for any level of fitness, so get started. You'll be glad you did.
For more information about the Coppell Fitness program and getting started, go to http://CoppellFitness.com
If you live or work in Coppell, Valley Ranch, Irving, Lewisville, Las Colinas, Carrollton, Flower Mound, Grapevine, Addison, Corinth, Highland Village, Dallas, and Farmers Branch, the Coppell Group Personal Training is just minutes away from you. Get You In Shapes programs include the Get You In Shape Group Personal Training, 24 Day Challenge, sports specific training, weight loss programs, Corporate wellness plans, nutrition plans, core fitness training, strength training, toning and more. Clients include athletes (golf, basketball, tennis, football, track, baseball, baseball, volleyball, and softball) corporate executives, professionals, weekend warriors, cheerleaders, dancers, models, stay at home moms, and anyone looking for results.
Owner Brad Linder, has been featured in numerous newspapers and even as the fitness expert on the news 8 (ABC). Get You In Shape was also featured on The Doctors TV show as one of the top Fitness Companies in Texas. He continues to use the gifts that he has been given to help serve the needs others have when it come to being healthy, losing weight, sports, toning up, and overall fitness.
More information about Get You In Shape at www.getyouinshape.com