Lori Yeary and her husband own Liberty Glass and Mirror in Frisco. She 62 years old and her goal is to lose 20 pounds SO THAT she can get back to waterskiing this summer! They live in McKinney.
Q: What was your life like before joining the Get You In Shape Program?
We bought Liberty Glass and Mirror in March of 2020, right before the Covid shutdown. Needless to say we were working 24/7 and eating whatever we could find that was fast and easy. The only thing we wanted to do in the evening was sit and watch mindless TV. I had already gained about 10 pounds prior to Covid, and another 10 slowly crept up on me until I finally said "Enough!"
Q: Why did you decide to join the Get You In Shape program?
I decided it was time to take care of myself and get back in shape. GYIS was the only program I found that fit my stage in life and fitness needs.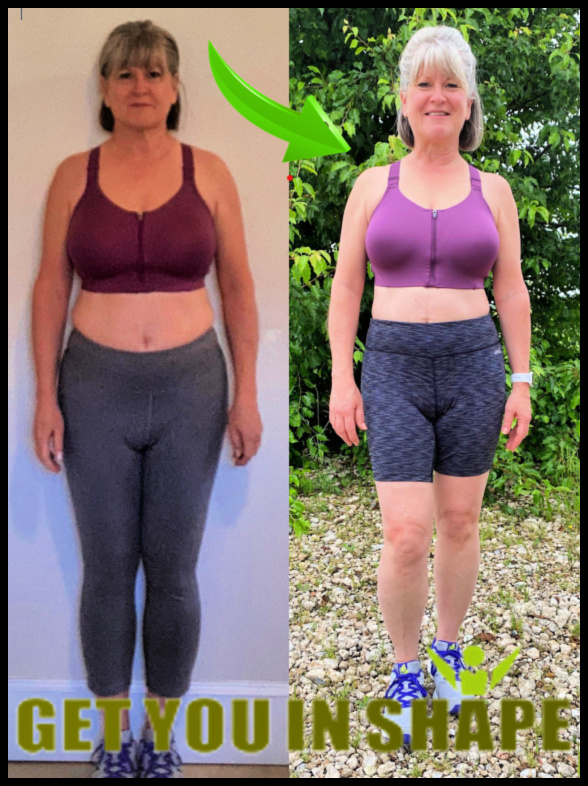 Q: What was your first impression from the Get You In Shape program?
From the first meeting with Brad I felt valued and encouraged. Everyone has been so kind – from the coaches to the other members. The first week was tough, but it's gotten easier each week.
Q: What have been some of the tools you have used that have benefited you?
The in-person classes are great! MyFitnessPal is the tool I used before, and it's even better now. Tracking my food and water intake has been an invaluable tool in my journey. Now that I've gone back to the office full time and am doing most classes online, I still feel part of the group through the Facebook group and messages from Brad.
Q: How is the Get You In Shape program different from other programs you have tried before?
I really appreciate the consistent encouragement to work at my own level/pace. I was concerned about being pushed too hard in the beginning and that was never an issue. I felt very comfortable starting at "Level 1" and am now starting to venture into some "Level 2" exercises! Brad is a great coach and I appreciate his daily thoughts and encouragement through the app.
Q: What results and benefits have you experienced in the Get You In Shape Program?
The first month of my journey has been challenging, but isn't that way for everyone? I have averaged 4-5 workouts a week and am already seeing progress. I can actually touch my toes now! I find I move more easily and groan less often  which is huge. One big change has been in my hips and Achilles. I was headed toward (another) issue with plantar fasciitis and can honestly say it's almost gone. I'm down 5+ pounds and have lost close to 5" overall. My clothes fit much better and I feel great!
Q: What would you say to anyone looking at this program?
I've already been encouraging my friends by sharing my journey. I even started a private FB group for my friends who are on a fitness journey. My advice to anyone over 50 who needs to lose weight or just get in shape – Do it NOW. Don't wait – it just gets tougher as we get older. I'm on this journey now SO THAT I can be healthy and active (and waterskiing!) until I'm at least 80 years old!
For more information about the Coppell Fitness program and getting started, go to http://CoppellFitness.com
If you live or work in Coppell, Valley Ranch, Irving, Lewisville, Las Colinas, Carrollton, Flower Mound, Grapevine, Addison, Corinth, Highland Village, Dallas, and Farmers Branch, the Coppell Group Personal Training is just minutes away from you. Get You In Shapes programs include the Get You In Shape Group Personal Training, 24 Day Challenge, sports specific training, weight loss programs, Corporate wellness plans, nutrition plans, core fitness training, strength training, toning and more. Clients include athletes (golf, basketball, tennis, football, track, baseball, baseball, volleyball, and softball) corporate executives, professionals, weekend warriors, cheerleaders, dancers, models, stay at home moms, and anyone looking for results.
Owner Brad Linder, has been featured in numerous newspapers and even as the fitness expert on the news 8 (ABC). Get You In Shape was also featured on The Doctors TV show as one of the top Fitness Companies in Texas. He continues to use the gifts that he has been given to help serve the needs others have when it come to being healthy, losing weight, sports, toning up, and overall fitness.
More information about Get You In Shape at www.getyouinshape.com