Mark DiCiaccio is an Operations Manager for Lake Cities Municipal Utility Authority in Lake Dallas, TX. He lives in Lewisville, TX.
Q: What was your life like before joining the Get You In Shape Program?
I was always tired, and had no energy. I was going to the gym and was not very motivated about it at all. I would always have some kind of excuse not to go! In addition, when COVID hit I just stop going.
Q: Why did you decide to join the Get You In Shape program?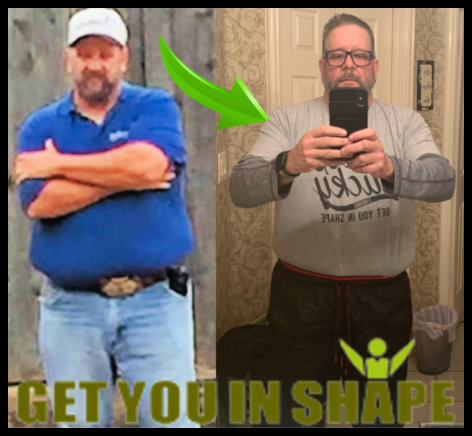 I was on Facebook one night looking for some type of workout to do at home and came across Brad's video. I went to the GYIS program to see what this program had to offer. Then I filled out the information form and got some emails and text from Brad. I made an appointment to meet him and the rest is history.
Q: What was your first impression from the Get You In Shape program?
I was very nervous my first day. When I saw how nice and friendly everyone is, it made it much easier. I have been with GYIS now since the end of July. I actually get mad at myself now if miss a workout in person.
Q: What have been some of the tools you have used that have benefited you?
I like the accountability part of the program, from daily check ins to my fitness pal. You also get a lot of support from the trainers, and all the other members! When you have trainers and people you do not even workout with commenting on your personal progress it's a good feeling.
Q: How is the Get You In Shape program different from other programs you have tried before?
GYIS staff makes you feel welcomed and you get to work out at your own pace. Most group settings the trainers scream and yell at you saying faster, faster. Not here! GYIS is one big family!
Q: What results and benefits have you experienced in the Get You In Shape Program?
I wanted to lose weight and live a healthier lifestyle. I am tired of taking all my medication for high blood pressure, type 2 diabetes, and high cholesterol. I am also tired of paying more money for my clothes!
When I went back to the doctor for blood work in September, all my numbers have dropped to normal range. I have even stopped taking one of my diabetes medicines. My doctor even asked me what I was doing. I told him working out and eating right! He was very pleased with my results.
Since I started GYIS at the end of July. I have dropped two pants sizes, and lost 20 lbs. I have cut out the sodas and started drinking more water. I still struggle with eating more veggies but I am doing better. When I eat, I make healthier choices now. I have more energy and I feel like I sleep better too.
I still have 30 more pounds I want to lose. I know it is not going to happen overnight. It will come with time, dedication, and discipline.
Q: What would you say to anyone looking at this program?
Join! It is a great program with great trainers and support!
For more information about the Coppell Fitness program and getting started, go to http://CoppellFitness.com
If you live or work in Coppell, Valley Ranch, Irving, Lewisville, Las Colinas, Carrollton, Flower Mound, Grapevine, Addison, Corinth, Highland Village, Dallas, and Farmers Branch, the Coppell Group Personal Training is just minutes away from you. Get You In Shapes programs include the Get You In Shape Group Personal Training, 24 Day Challenge, sports specific training, weight loss programs, Corporate wellness plans, nutrition plans, core fitness training, strength training, toning and more. Clients include athletes (golf, basketball, tennis, football, track, baseball, baseball, volleyball, and softball) corporate executives, professionals, weekend warriors, cheerleaders, dancers, models, stay at home moms, and anyone looking for results.
Owner Brad Linder, has been featured in numerous newspapers and even as the fitness expert on the news 8 (ABC). Get You In Shape was also featured on The Doctors TV show as one of the top Fitness Companies in Texas. He continues to use the gifts that he has been given to help serve the needs others have when it come to being healthy, losing weight, sports, toning up, and overall fitness.
More information about Get You In Shape at www.getyouinshape.com