Rhonda Shaw lives in Coppell and is a math lecturer at Univ of North Texas Dallas.
Q: What was your life like before re-joining the Get You In Shape Program?
I was working 80 hours a week (no exaggeration) teaching 6th grade at a private school for the previous 3 years. I was eating out a lot, not exercising at all, sleeping a max of 5 hours per night. I gained 40lbs in three years of that stressful stint in my life. It was uncomfortable to tie my own shoes and my flexibility was nil.
Q: Why did you decide to re-join the Get You In Shape program?
I was tired of allowing my circumstances control my life. I was taking care of everything and everyone other than myself and knew from previous experience that I felt my best when I was exercising regularly and keeping my weight under control. Emotionally, I need exercise to stave off depression and manage stress.
When I read about GYIS on Facebook, I was attracted to the idea of working out with people in my age bracket (I am 56.) and the accountability that comes from group exercise.
Q: What was your first impression from the Get You In Shape program?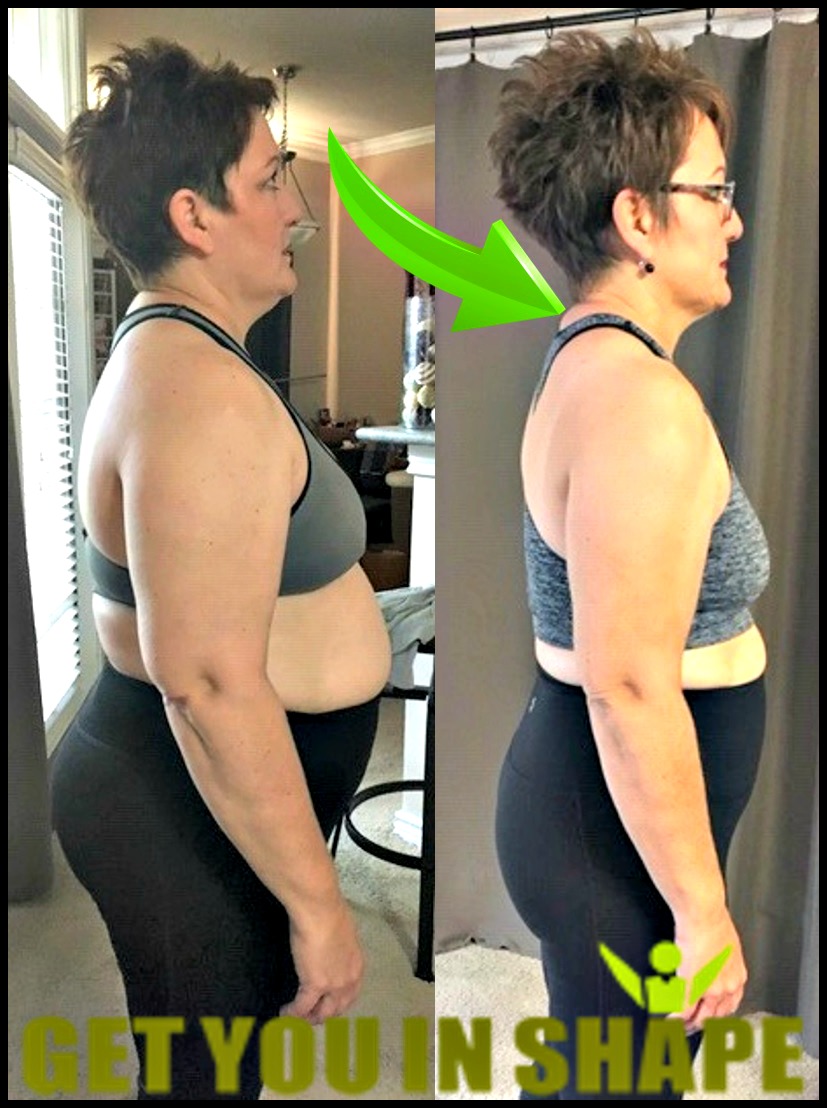 Workouts were hard, but the accommodations for each fitness level was encouraging and I looked forward to being able to do level 2 if I kept working.
The trainers are very encouraging and great about helping me with my form. I like to do things right, so I appreciate the training.
The other clients are wonderful! They cheered me on and assured me it would get easier. I have enjoyed the friendships forged from sweating together 3 days a week.
Q: What have been some of the tools you have used that have benefited you?
• The two week weigh-in and measurements
• The monthly mile run with bands for certain milestones
• My Fitness Pal
Q: How is the Get You In Shape program different from other programs you have tried before?
• #1: The variety of the workouts and the expertise of the trainers. I trust them with my workout needs.
• The trainers tell you why we are doing the exercises we do. I like gaining knowledge of my body and how it works.
• The fun vibe during every workout
• The GYIS Facebook page
• The camaraderie and sense of family
• The perks for attendance
• The t-shirts
• The monthly "happy hour" gatherings
Q: What results and benefits have you experienced in the Get You In Shape Program?
I lost a total of 5 lbs my first two weeks and that really pumped me up. From there, I stuck with the program and "followed the darn instructions" to find that each measurement day, I was dropping pounds and inches. Twice in 6 months, I lost only a pound in the two week periods between weigh-ins but most of the time, I would lose 4-5 lbs every two weeks. In 6 months, I have lost a total of 53 lbs and 7 inches off my waist and 7 off my hips. I am gradually in-growing my closet of clothes. (continued…)
I have been sleeping 7 hours each night and what a difference that makes! I wake up ready to go because my nutrition has improved mightily and I am getting the rest I need. I asked three friends to hold me accountable (in addition to the accountability of GYIS) in each of three areas: exercise 6 days a week, sleep 7 hours a night, and eat clean sticking to the calories and macros designed for me in the MyFitnessPal app. I wanted to ensure my own success and I know that accountability works for me so I doubled it up!
I never thought I would be able to run a mile in under 11 minutes. Now, I am anxious to be able to run it under 8 minutes! I love being inspired by the fitness of others and with the help of GYIS, I know I can continue to improve my fitness level and be physically able to take care of myself to live independently for many years to come.
Q: What would you say to anyone looking at this program?
You are worth the investment! Do something great for yourself, your future, and your health. It's about progress, not perfection and GYIS is all about progress at the pace you need. You will make new friends with similar health goals.