Chris Brundage is drafting for a civil engineering company and he resides in Coppell, Tx.
Q: What was your life like before joining the Get You In Shape Program?
My only exercise was riding my bike once or twice a week. I was very out of shape, low energy and didn't feel good.
Q: Why did you decide to join the Get You In Shape program?
I'm tired of being overweight and I was looking for a way to work out that didn't involve going to a gym. When out in the park I always saw the GYIS trailer in the parking lot and the groups working out and I thought it looked like a great way to work out.
Q: What was your first impression from the Get You In Shape program?
I was hooked about halfway through my first meeting with Brad. Everything he talked about and all the tools provided seemed like a perfect fit for my goals.
After my first workout I knew I had found the program for me. The coaches are great, well informed, and very helpful.
Q: What have been some of the tools you have used that have benefited you?
The workouts are fantastic! I love that the coaches have different levels for each exercise. If you're just starting out there is a level 1. If you're feeling strong there are levels 2 and 3. Also, every workout is different which keeps it fresh and exciting.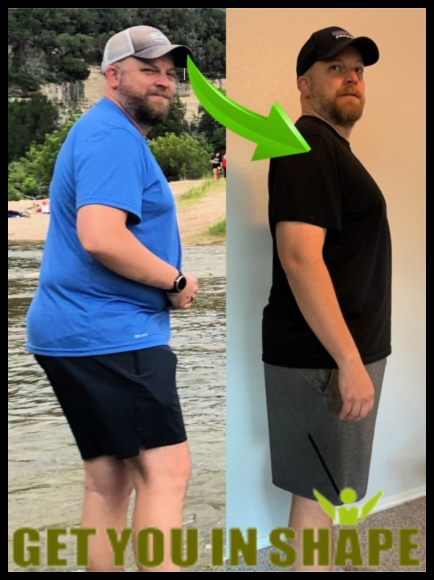 Q: How is the Get You In Shape program different from other programs you have tried before?
Even though there are a lot of people in the program it feels tailored fit just for me. I feel like I am getting individual training each day and that's an amazing thing. When I first started, I was experiencing lower back pain. I had to stop and stretch out my back and as I was doing that the coach came over and talked to me about what was hurting and how to stretch to alleviate the pain. That was almost three months ago and to this day the coach remembers my back issues and will let me know alternatives to a certain exercise to keep from hurting myself. You don't get that in other large group workout programs.
Lastly, I feed off the accountability. If I was doing the same workouts on my own, I wouldn't push myself as hard as I do when I am working out with the group.
Q: What results and benefits have you experienced in the Get You In Shape Program?
It's been two months and I feel so much better. I am getting stronger, faster and losing weight. I remember in my first workout I really struggled with pushups. Last week I was doing pushups and realized, holy cow I can do this now!
I also have more energy throughout the day and I'm eating healthier.
Q: What would you say to anyone looking at this program?
Brad and his team are amazing to work with. They will bend over backward to help you reach your goals. If you give GYIS a chance you will get to join an amazing community of like-minded people who are trying to better themselves.
For more information about the Coppell Fitness program and getting started, go to http://CoppellFitness.com
If you live or work in Coppell, Valley Ranch, Irving, Lewisville, Las Colinas, Carrollton, Flower Mound, Grapevine, Addison, Corinth, Highland Village, Dallas, and Farmers Branch, the Coppell Group Personal Training is just minutes away from you. Get You In Shapes programs include the Get You In Shape Group Personal Training, 24 Day Challenge, sports specific training, weight loss programs, Corporate wellness plans, nutrition plans, core fitness training, strength training, toning and more. Clients include athletes (golf, basketball, tennis, football, track, baseball, baseball, volleyball, and softball) corporate executives, professionals, weekend warriors, cheerleaders, dancers, models, stay at home moms, and anyone looking for results.
Owner Brad Linder, has been featured in numerous newspapers and even as the fitness expert on the news 8 (ABC). Get You In Shape was also featured on The Doctors TV show as one of the top Fitness Companies in Texas. He continues to use the gifts that he has been given to help serve the needs others have when it come to being healthy, losing weight, sports, toning up, and overall fitness.
More information about Get You In Shape at www.getyouinshape.com