William Evans is an accountant and lives in Coppell.
What was your life was like before joining the Get You In Shape Program?
My wife, Melissa joined in 2013. I followed the diet programs with her. At the time I was almost 300 lbs. I realized I had to change for skiing, and a trip to Philmont Scout Ranch.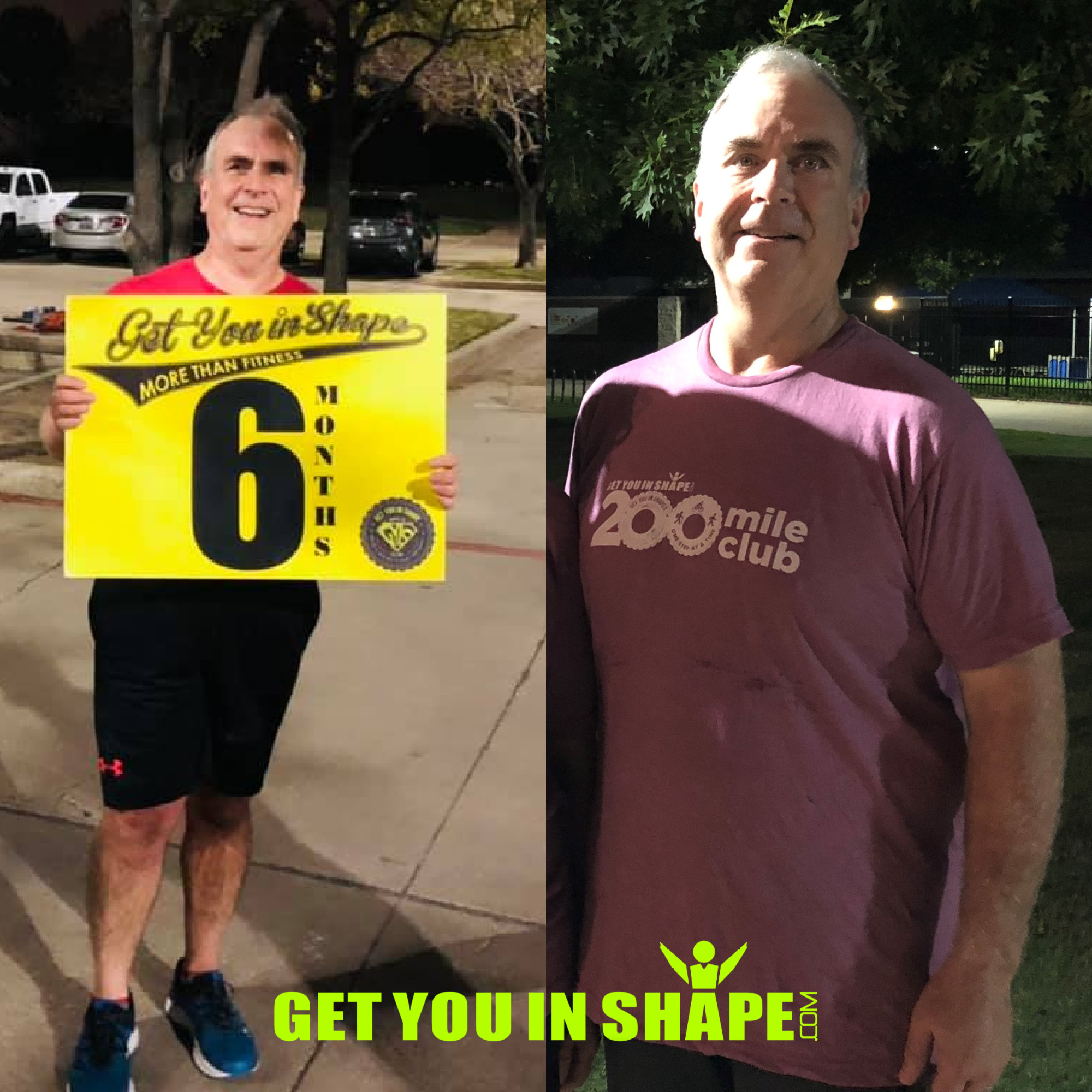 Why did you decide to join the Get You In Shape program?
COVID hit so I couldn't go the the gym. I tried to exercise on my own but realized my "on my own" wasn't effective.
What was your first impression from the Get You In Shape program?
It was challenging. The trainers were great on explaining form. There are a lot of great people in the class for accountability and encouragement.
What have been some of the tools you have used that have benefited you?
The accountability of the people in the class, the online programs. Food of the Week. The 200 mile challenge helped as it was the first time I kept up running during the summer.
How is the Get You In Shape program different from other programs you have tried before?
It's more wholelistic. The accountability is higher. It is a PROGRAM vs disconnected activities 1 hour class, own workout, diet.
What results and benefits have you experienced in the Get You In Shape Program?
Lost inches enough to tighten my belt a notch. After the first month, I noticed more strength. It has helped with my stress level at work. It allows me to be able to the things I want to do going forward such as being outdoors, hiking, camping.
What would you say to anyone looking at this program?
It's all about the process! You work together, but find your own path. The group is a great support network that will make you succeed.
For more information about the Coppell Fitness program and getting started, go to http://CoppellFitness.com
If you live or work in Coppell, Valley Ranch, Irving, Lewisville, Las Colinas, Carrollton, Flower Mound, Grapevine, Addison, Corinth, Highland Village, Dallas, and Farmers Branch, the Coppell Group Personal Training is just minutes away from you. Get You In Shapes programs include the Get You In Shape Group Personal Training, 24 Day Challenge, sports specific training, weight loss programs, Corporate wellness plans, nutrition plans, core fitness training, strength training, toning and more. Clients include athletes (golf, basketball, tennis, football, track, baseball, baseball, volleyball, and softball) corporate executives, professionals, weekend warriors, cheerleaders, dancers, models, stay at home moms, and anyone looking for results.
Owner Brad Linder, has been featured in numerous newspapers and even as the fitness expert on the news 8 (ABC). Get You In Shape was also featured on The Doctors TV show as one of the top Fitness Companies in Texas. He continues to use the gifts that he has been given to help serve the needs others have when it come to being healthy, losing weight, sports, toning up, and overall fitness.
More information about Get You In Shape at www.getyouinshape.com