Reymund & Cynthia Zuniga are both retired and live in Lewisville.
Q: What was your life like before joining the Get You In Shape Program?
We retired in June 2019, sold our cars and house in Coppell and put everything in storage so we could start travelling. Corona Virus chased us back home. We were walking every day but really not getting much exercise other than that. We have both struggled to keep the weight off and needed to do something to kick start this new phase of our life.
Q: Why did you decide to join the Get You In Shape program?
After sheltering in place for almost a year we realized we needed to do something to jumpstart our health and weight programs. We saw ads on Facebook and decided this was exactly what we needed! The group workouts were a big factor in trying something new.
Q: What was your first impression from the Get You In Shape program?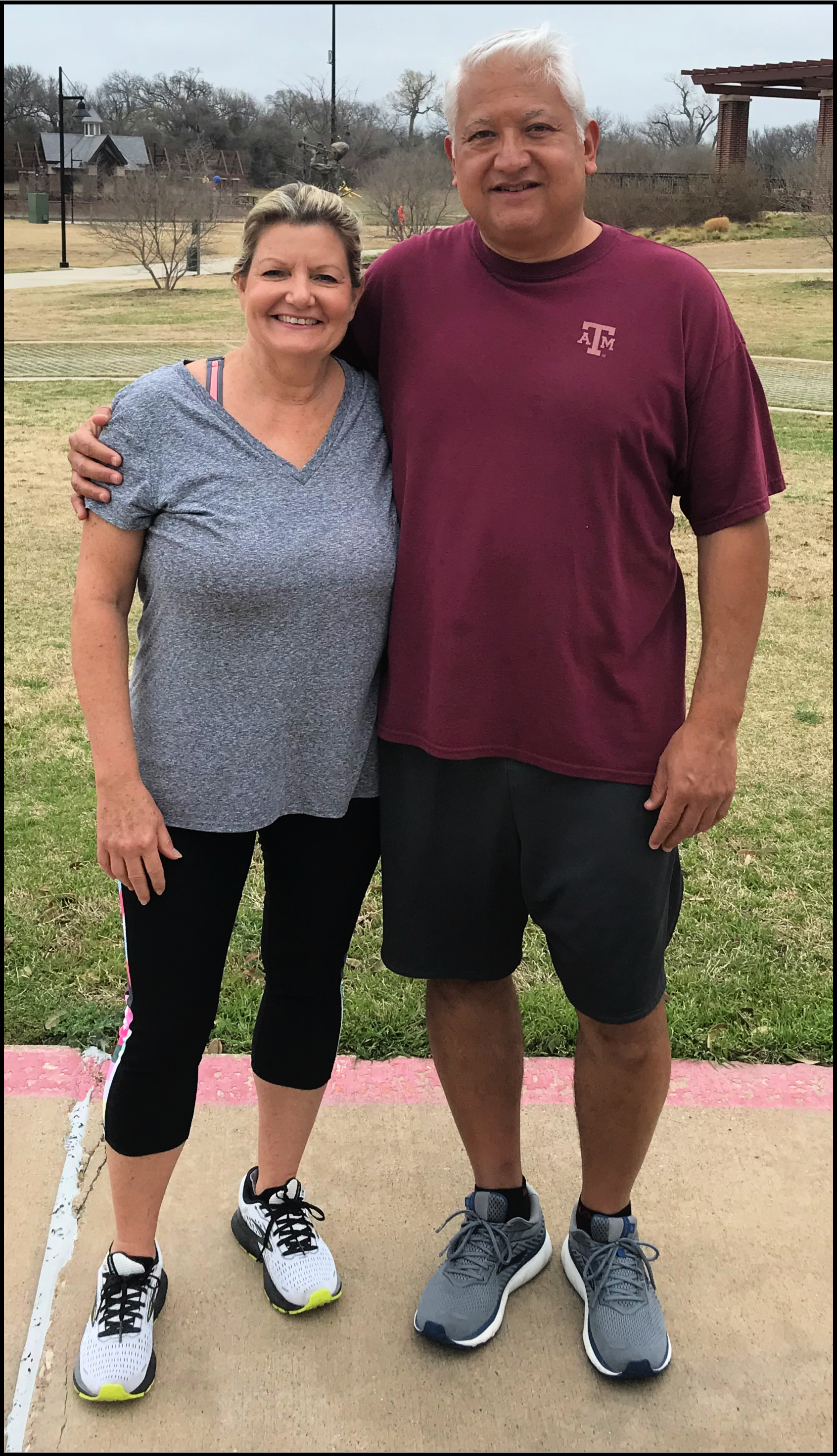 After orientation we were a bit overwhelmed with information but kept saying "follow the darn program"! The meal plan was easy to follow and everyone was so nice at class that it made us comfortable and we knew we could stick with this program.
Q: What have been some of the tools you have used that have benefited you?
The meal plans, recipes and daily check ins are a huge benefit and keep you accountable. Knowing we had measurement and weigh-ins helped with motivation!
Q: How is the Get You In Shape program different from other programs you have tried before?
All of the tools and information. The "So That's" are a great way to put your goals into perspective on a daily basis. We like the way it combines weight training and nutrition and accountability. We have tried a lot of new things to eat and have been pleasantly surprised. The classes held outside make them more enjoyable than in a gym setting.
Q: What results and benefits have you experienced in the Get You In Shape Program?
After the 1st week, we lost a combined 9lbs; After 2 weeks, we had lost a total of 14.25 inches and after 6 weeks we were down a total of 25lbs! In addition, Reymund's doctor has eliminated two of his medications due to my results and overall improved health. We are embracing eating clean and a commitment to staying healthy.
Q: What would you say to anyone looking at this program?
You are never too young or too old to start eating clean and working out. The trainers do a great job of showing you different levels of each exercise from true beginner to more experienced and really fit participants. The group setting really helps keep you motivated and accountable.
For more information about the Coppell Fitness program and getting started, go to http://CoppellFitness.com
If you live or work in Coppell, Valley Ranch, Irving, Lewisville, Las Colinas, Carrollton, Flower Mound, Grapevine, Addison, Corinth, Highland Village, Dallas, and Farmers Branch, the Coppell Group Personal Training is just minutes away from you. Get You In Shapes programs include the Get You In Shape Group Personal Training, 24 Day Challenge, sports specific training, weight loss programs, Corporate wellness plans, nutrition plans, core fitness training, strength training, toning and more. Clients include athletes (golf, basketball, tennis, football, track, baseball, baseball, volleyball, and softball) corporate executives, professionals, weekend warriors, cheerleaders, dancers, models, stay at home moms, and anyone looking for results.
Owner Brad Linder, has been featured in numerous newspapers and even as the fitness expert on the news 8 (ABC). Get You In Shape was also featured on The Doctors TV show as one of the top Fitness Companies in Texas. He continues to use the gifts that he has been given to help serve the needs others have when it come to being healthy, losing weight, sports, toning up, and overall fitness.
More information about Get You In Shape at www.getyouinshape.com