Rhonda Shaw lives in Red Oak and teaches math at Univ of North Texas, Dallas.
Q: What was your life like before joining the Get You In Shape Program?
No exercise for three years
I taught 6th grade at a private school and worked incredibly long hours. I slept about 4-5 hours per night and ate fast food a lot as I was on the go a great deal.
I had no life balance at all pouring all of my energy into the job and just was not taking care of myself spiritually, emotionally, or physically.
Q: Why did you decide to join the Get You In Shape program?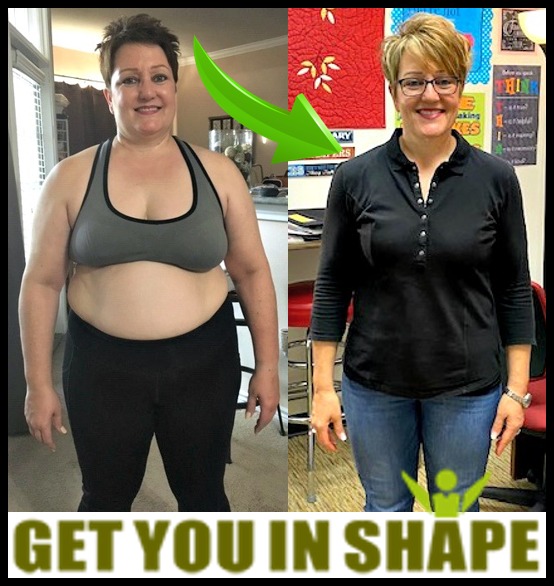 I have been in shape before and knew life in the healthy zone was better. Exercising regularly is what keeps me in the right side of depression. It also helps me manage stress and teaching is stressful. I knew this from prior experience and just got to 229lbs and said enough!!!! I slid down the slippery slope far too long and wanted to get a handle on it before I was 100lbs overweight. God really lead me to GYIS at just the right moment and the all for folks over 50 wanting to get moving was just what I needed to hear.
Q: What was your first impression from the Get You In Shape program?
I was pumped and excited because after my initial meeting with Brad, I knew from my own physical educational training that it would work because the exercise and nutritional plan is sciences based. No gimmicks!
I started in June so the heat on top of the work was tough, but I am no cream puff. I expected it to be hard and it was, but you cannot get discouraged with happy trainers that cheer you on while making friends with other clients who share your health pursuits. I loved the social aspect of the workouts. I am an extrovert, so it energized me!
Q: What have been some of the tools you have used that have benefited you?
Accountability through My Coach was especially helpful that first month. It keeps you connected though a bit overwhelming at first.
My Fitness Pal
I can't imagine ever not using this great tool. It keeps you aware of your intake and once you get into the habit of logging your food, water, and exercise, you just do it without thinking. This tool offers accountability if you friend someone on It like I did. I love how many food items it has built into its database and I continue to learn tricks to making logging more efficient. It also offers recipes and fitness articles that I like to read.
Q: How is the Get You In Shape program different from other programs you have tried before?
Now that I have moved and can no longer attend the sessions in person, I realize that it's not just the people, but the spirit that surrounds GYIS. Brad and Cynthia are true blue. They have built a business that truly cares about the physical and emotional well-being of their clients. They over deliver in every way.
You don't feel like you are part of an assembly like cookie cutter business. Being a member of GYIS truly was a family to me. Everyone is encouraging and commenting as my weight decreased and encouraged me when I was fighting to stay afloat during tough workouts or the monthly mild runs. The leadership fosters and exemplifies fellowship and camaraderie. This group is not standing around sizing each other up and judging you based on your strength and/or stamina or appearance. Everyone is trying to move more and stay active and learn to be healthy together.
Q: What results and benefits have you experienced in the Get You In Shape Program?
I really got on board fast and wasted no time following the darn instructions! I lost 8 lbs the first two weeks! That motivated me and I just kept plugging away and steadily lost about 2 lbs per week. After 9 months, I lost 77 lbs. I have dropped from a 2X to an size 8-10 or a medium.
I can bend over easily now without effort, but before just tying my shoe was a challenge. I can sit with my legs crossed now and be comfortable. That is a big change as well as going up two flights of stairs at work without hyperventilating! I actually seek out opportunities to take the stairs now.
I am stronger and more energetic! Wearing clothes is so much more fun! It's been a bit like Christmas discovering clothes I have held onto but haven't been able to wear in years.
Q: What would you say to anyone looking at this program?
I have lost 40lbs three times in my life and gained it back. This time, I know that I won't because I have my "so that" statements to keep my eye in the ball and I have not starved myself. I have learned to eat 5 times a day and I eat food that I like; food that is good for me. I eat to fuel my body AND I will keep moving!
For more information about the Coppell Fitness program and getting started, go to http://CoppellFitness.com
If you live or work in Coppell, Valley Ranch, Irving, Lewisville, Las Colinas, Carrollton, Flower Mound, Grapevine, Addison, Corinth, Highland Village, Dallas, and Farmers Branch, the Coppell Group Personal Training is just minutes away from you. Get You In Shapes programs include the Get You In Shape Group Personal Training, 24 Day Challenge, sports specific training, weight loss programs, Corporate wellness plans, nutrition plans, core fitness training, strength training, toning and more. Clients include athletes (golf, basketball, tennis, football, track, baseball, baseball, volleyball, and softball) corporate executives, professionals, weekend warriors, cheerleaders, dancers, models, stay at home moms, and anyone looking for results.
Owner Brad Linder, has been featured in numerous newspapers and even as the fitness expert on the news 8 (ABC). Get You In Shape was also featured on The Doctors TV show as one of the top Fitness Companies in Texas. He continues to use the gifts that he has been given to help serve the needs others have when it come to being healthy, losing weight, sports, toning up, and overall fitness.
More information about Get You In Shape at www.getyouinshape.com