The Story Behind Get You In Shape
It's always great looking back and seeing the path that I was lead to in order for me to finally start to Get You In Shape in 2006. There are many different path's from 1975 (when I was born) to 1999, but to spare you some of the unexciting details let me start at the latter. In 1999, I got my master's degree in Health and Kinesiology, teacher certification and soon after I received my Personal Trainer Certification.
In 2000, I was then given the chance to go play professional basketball in Ireland for a year and also got to tour around Western Europe for a month while being over there (the all by yourself, backpack, hostel, find your way around the type of travel). For the next 5-6 years, I was able to get some incredible experience in the "game of life" and learn a lot of things that proved to help in the formation of Get You In Shape.
Looking back at all the things I experienced, all the things I did, all the different steps I took, the different roles I played, they were all just pieces of the puzzle that helped put everything together for me to start to Get You In Shape in 2006. In 2006, two doors opened that would eventually prove to be WHY I chose to quit everything and pursue my career in health and fitness once and for all.
The first door that opened was getting my first Onsite Corporate Fitness Program at the University of Dallas. I had already done group training with the CCA basketball team of athletes in Carrollton but this was just bringing what I was doing with one on one training to a group session. The University of Dallas group personal training program solidified to me that I had been given gifts to be used in group fitness and that this is something that I WANTED to do. The program was a success and I had a blast coaching in a group atmosphere.
The second door that opened is HOW the name GET YOU IN SHAPE started. A friend of mine worked at a television and production station and approached me with the idea of having a television show that would start with an interview and end with a fitness segment. This would also end up being a Fitness DVD with the interviews being included along with 5 different workout segments.
The ball was in my court to come up with the entire programming including the fitness portion and finding the people to Interview. I was able to call and get interviews with some of the most well-known people in their fields in the Dallas area. Some of the interviews were the late Coach Joe Avezzano, Sidney Stohs M.D. (Professor, Pharmacology and Toxicology), Lance Walker (Global Director of Performance at Michael Johnson Performance), Everett Aaberg (Owner of Telos Fitness Center), Ken Goldberg M.D. (Founder of the Male Health Center) Meredan Zerner (Registered Dietitian @ Cooper Aerobics), and Collete Cole (has led Cooper's Female Focus Program since 2006). These are a few of the incredible list of folks I was able to interview and learn from.
All that being said, I spent a long time trying to come up with a name for the television show. I also wanted to make sure that the URL (website) was available and business name was not taken.
From this Get You In Shape was BORN! In 2006, Get You In Shape was formed and the rest is history. The short end of the story was that the television show never panned out. but I do have the experience of producing the Get You In Shape Fitness DVD which has a great tool for many people to help get in shape over the years. Once the doors opened to use my gifts to help people look better, feel better and become better versions of themselves.
In 2007, I pioneered a high-intensity group personal training program called the Get You In Shape Fitness program in Coppell, which received rave reviews including a feature in The Obama Diaries, by Laura Ingraham.
From the start, I wanted to make giving back to charities a big part our business and something people we would be known for. We started doing charity workouts and started the Get You In Shape 5k for Coppell Special Olympics. This has been one of the most rewarding aspects of what Get You In Shape is all about. One of our taglines is "Get Fit, Have Fun and Make a Difference" so we try to live that out every day.
To date, Get You In Shape has been raised more than $150,000 for various charities which is something I feel blessed to have been a part of. Get You In Shape has worked all over the DFW area doing onsite corporate wellness and fitness. Get You In Shape's fitness program, though, is in Coppell, TX. Since starting, Get You In Shape has been able to help thousands of people get in the best shape of their lives. 550 of these clients are featured in video testimonies on YouTube (http://bit.ly/2mXP60Q)
Get You In Shape has grown into one of the leading fitness companies in Dallas and was featured on The Doctor's television show with Jillian Michaels as being one of the Top Fitness Companies in Texas. I have been a best-selling author twice and has been featured as a fitness expert in numerous newspapers and media appearances including The Doctor's, ABC News Channel 8, and CNN. I started to Get You In Shape as a single man. I got married to my wife, Cynthia, in 2007. In 2011 we had our first child Elliott and we now have Mary (5), Faith (3), Skyler (1) and Noelle (4 months).
Has it been a smooth road?
I think if you ask any small business owner, it's never an easy road. It's certainly something I would not give up and never take anything for granted because of all the blessings that have happened since choose to start my own company. I think having a passion to do what you love is what drove me those earlier years of the business. One of the main struggles with owning a small business is making sure you have a team in place to fulfill the services you offer.
The biggest struggle over years has been trying to balance family life with running a company. Everything seemed to be easy those early years because we did not have any kids yet and I was very driven to do whatever it took to grow the business. I have found a good balance running a company and being around for my 5 kids every day.
A little more about Get You In Shape
We specialize in transforming lives and helping people become better versions of themselves. We do this through group personal training, lifestyle coaching, corporate wellness and onsite corporate fitness programs.
We have helped thousands of people throughout the years and have over 550 Video Testimonies just on our YouTube Channel alone. Our tagline is Get Fit, Have Fun and Make a Difference. We are known as a company that gives back to local charities as we have been able to raise over $150,000 to give to charities.
Contact Info:
About Get You In Shape
Core Values:                                                                          
Community: Create a positive and healthy environment that promotes motivation, encouragement, accountability and inspiration.
Servants Heart: Serve each person wherever they are on their health and fitness journey.
Empower: Help motivate each client to live healthy lifestyle so they can pay it forward.
Make a Difference: Use our God-given gifts to help our community and worthy causes.
Over-Deliver: Provide a service that goes above and beyond the typical fitness program
Mission Statement:
We provide Scientific based health and fitness solutions to its clients by delivering outstanding experiences.
We accomplish this mission by educating the community
by delivering RESULTS DRIVEN programs
by HELPING those who want to be helped
by acting in a manner that brings out the best in others
and by ENRICHING THE LIVES of those with whom we come in contact with
Brad and Cynthia Linder are the owners of Get You In Shape in Coppell, TX.
As a former professional basketball player, Brad utilized the knowledge attained from a Master's degree in Health, Kinesiology, and Sport Studies, to optimize his performance. With an extensive background in fitness and nutrition, he naturally wanted to share this knowledge with others as he entered into the health and fitness field. Since 1999, Brad has been able to help thousands of participants and clients. Brad has created and produced the Get You In Shape DVD and has been featured as the fitness expert on television and in newspaper articles. Brad has pioneered a high intensity boot camp called Get You In Shape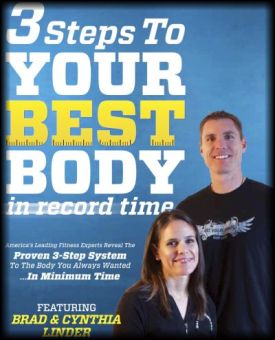 Boot Camp, which has received rave reviews. It was featured in The Obama Diaries, by Laura Ingraham.
Cynthia Linder is a former schoolteacher with a Masters Degree in Special Education. She has learned firsthand how to drop dress sizes and get in shape. Struggling for most her adult life to eat healthy and maintain a lifestyle of fitness, she met Brad in 2004. She is now a walking testimony going from a size 10/12 to a size 4/6 and keeping it off.  Cynthia has a huge desire to help others by motivating, encouraging, and inspiring others to reach for their goals.
Brad and Cynthia's fitness business, Get You In Shape, has grown into one of the leading fitness companies in the Dallas area.  What started as one man's mission has grown into a business that offers fitness boot camps, corporate wellness, private training, and nutritional programs. Clients range from high-end millionaires to dedicated housewives. The simple approach of Get You In Shape is to educate, encourage, motivate, and inspire clients to achieve their personal goals. Because of this comprehensive approach to health and wellness, Get You In Shape is ranked in the top tier of fitness businesses in the Dallas, Texas area.

Brad and Cynthia Linder, owners of Get You In Shape, recently joined a select group of the world's leading health and fitness entrepreneurs to co-write the health and fitness book titled, 3 Steps To YOUR BEST BODY In Record Time:America's Leading Fitness Experts Reveal The Proven 3-Step System To The Body You Always Wanted…In Minimum Time. On the day of release, 3 Steps To YOUR BEST BODY skyrocketed to best-seller status on Amazon.com, reaching as high as #69 overall in the Amazon Top 100.  The book reached #1 in both the Quick Workouts and Weight Training Categories, while reaching #3 in the Exercise and Fitness category and #24 in Health, Mind and Body category.
Owner, Brad Linder
M.S. Health and Kinesiology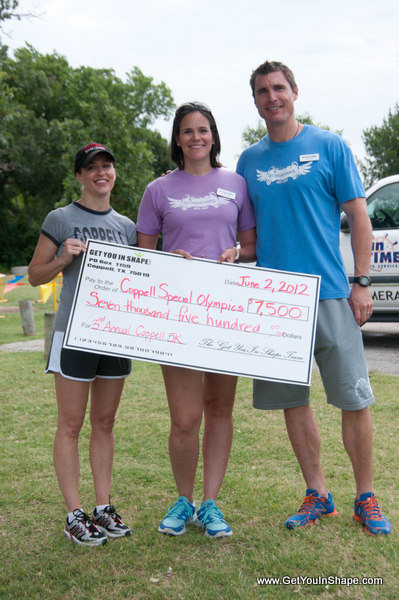 B.S. Health and Physical Education
N.A.S.M Certified Personal Trainer
CrossFit Level 1 Trainer
CrossFit Mobiliy Seminar
Cooper Institue – Pregnancy and Exercise
RRCA Certified Coach
Certified Resistance Band Trainer
Best Selling Author
Each month, the Get You In Shape program analyzes weight loss from the fitness clients, creates a positive environment for healthy support and camaraderie among participants.
Brad also conducts fitness and nutrition seminars, lunch and learns, onsite corporate fitness programs, and 24 Day Challenge Contests.
Brad has been blessed with gifts to help people look, feel and perform better on a daily basis and his passion is to help as many people as he can. In order to support that passion, he has built a team of like minded trainers to help carry out the Get You In Shape Core Values.
Coppell Personal Trainer and Coppell Boot Camp. If you live or work in Dallas, Lewisville, Irving, Las Colinas, Flower Mound, Grapevine, Carrollton, or other Dallas cities, this program is close to you.
---