Attention Coppell Area Residents…
"FINALLY! A Coppell Weight Loss & Fitness Program That Combines the

Ultra Fun Environment

WITH the

Individualization

and

Extra Coaching

That Personal Training Provides!!"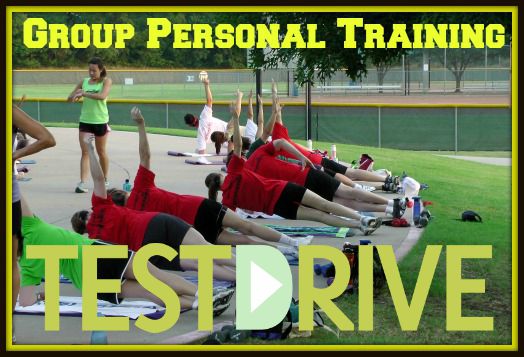 TEST DRIVE Coppell's #1 Group Personal Training program since 2007 for 4 Weeks....
NOTE : We limit the number of sign ups to the first 7 people each month so that we can continue to provide the level of personal training service we are known for in Coppell.

Apply Below For Your 4-Week Test Drive
What You'll Get With Your 4-Week Test Drive..
​

1 Success Session - to prepare you to rock your 4-Week Test Drive! (value $79)

14 Group Personal Training Sessions in 4 Weeks! (value $159-$219/month)

8 Interval Based Cardio Sessions - Interval based cardio program that is led by a GYIS Personal Trainer ($60/month)




Up to 23 Total Sessions in 4 shirt weeks!




Get You In Shape Program Guidebook - This is the 101 guide to helping you off to a FAST START! (Value $79)

Education & Nutrition Tips - Weekly tips that will help maximize your results! (value $99)

Fitness and Nutrition Journal - Discover how Get You In Shape can help double your results by using this simple to follow program (value $47)


Accountability

- Put yourself in a positive and healthy environment that creates motivation, encouragement, inspiration and accountability.(value = Priceless)

Nutrition Plan

- You'll get access to Get You In Shape's proven step by step ("follow the darn instructions") nutrition plan (

value $150

)
YES! You get to TEST DRIVE at Coppell's #1 Group Personal Training program since 2007 including all of the above EXTRA's for 4 FULL Weeks....
4-WEEK TEST DRIVE is only $219