Coppell Trainer Spotlight of the Month – Paul and Meg Hinkley

1 Name, what you do, and where do you live?
Paul Hinkley . Develop custom income tax software.
Meg Hinkley.  Owner of Athena's Strategies, self defense seminars for women.
Coppell, Texas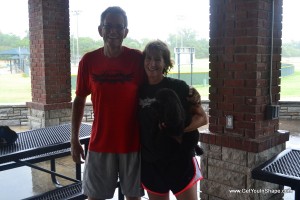 2 Why did you decide to join the Get You In Shape program?
Paul – Meg (my spouse) had been involved with Get You In Shape for about a year and she was very impressed.   I was definitely on a path of Get You Out of Shape and Get You In Shape was an excellent reversal of that process.  Get You In Shape was a great way to get back to the importance of physical fitness.
Meg – I wanted better balance to my work out program. I knew I was neglecting some muscle groups in my work out. I also loved that it was outside!
3 What was your life like before joining the Get You In Shape Program?
Paul – Before Get You In Shape exercise was sporadic, unplanned and unstructured, not a very well rounded approach either.  It was also less frequent.
Meg – I have always been involved in fitness but was in a rut. I was also experiencing some fatigue due to nutritional deficiencies. You can get by with some poor nutrition decisions when you are young but not now !
4 What was your first impression from the Get You In Shape program?
Paul – Wow!  My first impression was that the programs were so well rounded and varied.  One of the most terrific things was I didn't have to plan the workouts, just show up and focus on the work.  The first few weeks (at 5:30am) the class was in sections and it was great to learn basic form in a smaller group.
Meg – I loved the community aspect of the class and the personal instruction from the trainers.
5 What have been some of the tools you have used that have benefited you?
Paul – One of the valuable things about Get You In Shape is the time set aside for warm up and cool down.  Even though those are important and valuable it's easy to skip them working out as an individual.
Meg – I like the nutrition advice we get in the monthly newsletters, and I have tried several of the advocate products . I especially like the meal replacement shakes and the Metabolic Nutrition System (MNS) supplements.
6. How is the Get You In Shape program different from other programs you
have tried before? Or What makes Get you In Shape different or unique?
Paul – With the other programs I've been involved in the focus was on training for a particular activity that was improved by fitness and conditioning, like soccer or track for example.   The Get You In Shape program is directed at overall fitness as the goal so it is much broader.  The Get You In Shape trainers are great and really encourage and help everybody so well.  The variety of times to train is a real asset for any schedule difficulties too.
Meg – The community aspect and the wonderful trainers make the difference. The trainers are always changing it up to keep us challenged and motivated. I also like the opportunities to participate in special events like 5ks , triathlons, and contests.

7 What results and benefits have you experienced in the Get You In Shape
Program?
Paul – Dropping about 15 lbs since starting in August of 2010 was great and a mile time down from over 9 min. to just under 8 minutes was a nice measurable change.  But the real benefits are a little less easy to measure, lots fewer trips to the chiropractor and lots less ibuprofen is a real testimony to the core work.  And generally more energy and being able to do more things that involve physical capability.  A real bonus was being able to work long hard days on a recent mission trip where we moved bags of cement, used wheelbarrows to move gravel, refuse and concrete.  We did a good bit of mixing loads of concrete with shovels and that was a real workout.  It's a special benefit to be able to use fitness to make a contribution to others.

Meg- My overall fitness has improved. I feel  " ready" at any time to participate in all the outside activities I enjoy like hiking, skiing, and horseback riding. I feel like the program is keeping my body operating as it did in my 30s.

8 What would you say to anyone looking at this program?
Paul – It's a great program and I'd say there a lot of benefits that may jump right out at you in the first few weeks.  It can take a while to build on the good foundation laid at the start but it's surprising how the benefits keep coming year after year.
Meg – Just Do It!!! You have everything to gain and nothing to lose (except for some extra pounds!)
Post from Meg -
Get You In Shape trainers, I want to give you a big shout out…Paul, Michael and I were in Costa Rica on a mission trip last week. The project ended up being A LOT of heavy construction work. Every day we were mixing concrete (manually, with shovels), moving heavy loads of dirt and rocks, knocking down current concrete structures (sledgehammers), and carrying heavy buckets of wet cement. Paul and I laughed that so much of what we were doing looked like some of our boot camp exercises. I was amazed that we were able to work that hard for that long. While we were very tired at the end of every day, we weren't all that sore. There is no way we could have done 1/10th of what we did without our get you in shape trainers and the workouts. (I even thought fondly of Tara Dickinson's workouts during one of my cement hauls!) Thank you so much Get You In Shape!
Get You In Shape was started in 2006 by Brad Linder. Fast forward to today, Get You In Shape is the most popular, most talked about, and most results-driven fitness program in the Dallas, TX area and in Coppell, TX. Since 2007, Get You In Shape has helped over 5000 participants in our nutrition services and fitness programs. Group Fitness Boot Camps and the Advocare 24 Day Challenge are the two most popular programs that Get You in Shape offers.  Get You In Shape also offers Corporate Wellness and Fitness Programs and also private personal training.
To date, the Get You In Shape program has produced amazing results. Over 6,800 inches and over 2,800 pounds lost! As leaders in the fitness and nutrition arena, Get You In Shape helps each client reach their health and fitness goals through different means to help encourage and motivate each client to reach their goals.
Get You In Shape has been featured on ABC, CBS, the national TV show The Doctor's TV, Dallas Morning News, Fort Worth Star Telegram, and many other media outlet for being gurus when it comes to getting in and health and fitness.
Brad and Cynthia Linder, owners of Get You In Shape, recently joined a select group of the world's leading health and fitness entrepreneurs becoming Best Selling Authors of 3 Steps To YOUR BEST BODY In Record Time:
Get You In Shape knows how getting in shape and living a healthy lifestyle can be a trying process. We design nutrition and fitness programs for individuals and groups to help make that process easier. Our approach is to educate, encourage, and motivate the client to empower themselves, gain confidence, and change their lifestyle. Those, along with our comprehensive approach to wellness, distinguish Get You In Shape at the top tier of certified personal trainers and nutrition consultants in Dallas, TX and Fort Worth, TX. With a focus on a comprehensive approach, supportive encouragement, and being available to all of our clients, we assist and direct each of his clients to get in shape and stay healthy.
Founder of Get You In Shape, Brad Linder, has built an awesome team of dedicated personal trainers and fitness professionals to help carry out the values and mission of Get You In Shape. As a former professional basketball player, Brad utilized the knowledge attained from a Master's degree in Health, Kinesiology, and Sport Studies, to optimize my performance on the court. With an extensive background in fitness and nutrition, I naturally wanted to share this knowledge with others as I entered into the health and fitness field. I believe that each of us are given gifts to use and my gifts are in supporting clients to attain health and fitness goals. I hundreds of clients who would testify to the great results they've experienced.
Get You In Shape has a strong track record of helping clients, just like you, get incredible health and fitness results.
Please feel free to look around the website and sign up for our free reports. If you are in the Dallas and Coppell area, let us know how we can help you. We have free trial weeks of our fitness boot camp and free informational meeting about our 24 Day Challenge.
If you live close to or work close to Coppell, Irving, Valley Ranch, Las Colinas, Grapevine, Carrollton, Plano, Flower Mound, Dallas, Southlake, Lewisville and other Dallas area cities, Get You In Shape has both fitness program and nutrition programs for you.