Coppell Fitness Boot Camp Spotlight of the Month – Gail Hagan

The Get You In Shape team hand selects clients each month that we feel have transformed their health and fitness.  Gail Hagan is a stay at home mom and lives in Coppell. She has been a Get You in Shape boot camper for 6 years.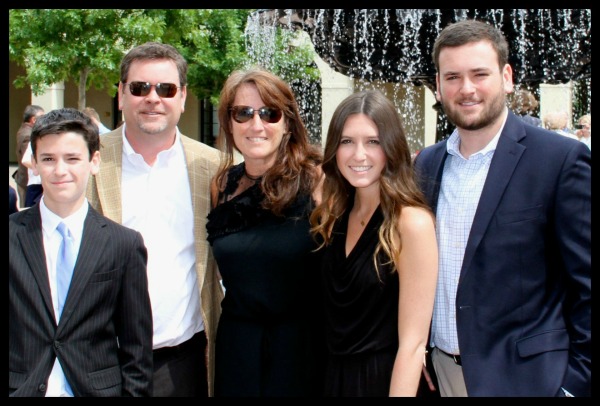 Q: Why did you decide to join the Get You In Shape program?  I originally started the program with my husband basically to get him in shape. And it did! We really enjoyed working out together and it was nice having that committed time every week. We made sure we planned our schedules around not missing boot camp.
Q: What was your life like before joining the Get You In Shape Program?  I have always been an active and relatively "in shape" person.   I feel very strongly about staying in shape to help with the dreaded aging thing. Prior to joining the program I walked a lot, did palates and played tennis on a regular basis.
Q: What was your first impression from the Get You In Shape program?  How welcoming it was. The trainers clearly had a personal interest in everyone in the program and couldn't have been nicer. I mentioned before that I had always been an "in shape" person, so the second thing I noticed was that I was not as in shape as I thought I was. I was feeling muscles that I didn't even know I had. I was very sore the first week, but it was a good sore. I still get sore today and I know that it may sound strange, but I just love that feeling. The sorer the better, it always makes me feel like I've had a great workout!
Q: What have been some of the tools you have used that have benefited you?  The Advocare 24 day challenge. The first time I did it, it lived up to its name, it was extremely challenging! The hardest thing was giving up coffee. I have never had another cup since. I had great results and just felt better. I usually do it at least once a year and always feel like I benefit from it.
Q: How is the Get You In Shape program different from other programs you have tried before?  So, of all the questions, this one is the biggest one for me. There are SO many things I Love about this program.
It works for me
I LOVE working out outside, doesn't matter if it's 40 or 100 degrees. I genuinely love it and it is always an option. Rain, snow, ice (the ice one was one of my favorites of all time)
The Nooners. Love them all and love that class!!!! I can't explain exactly what it is that is different about this particular time and group, but it has a different feel to it. I am always sad if I can't make the noon session. However, with that said, I also appreciate that there are plenty of options for classes. I've personally never seen the early a.m. classes, but the rest are also great. I do enjoy the evening class quite a bit.
The workouts. After 6 years I still always feel challenged. They are always new and fresh to me. It never gets monotonous.
And most of all, the people. I really can't express enough how positive, encouraging and motivating everyone is. It starts with Brad and Cynthia, All the trainers (I Mean, I genuinely love all of them) and the boot campers. I feel like I have a whole workout family!
Q: What results and benefits have you experienced in the Get You In Shape Program?  I am most proud of my sub 8 minute mile time. I do realize that to some people this is not something to shout about, but I am NOT a runner. We have a love/hate relationship that is mostly hate. I don't know what my exact time was the first time I did the mile, but I know it was over 12. I also could not have reached this accomplishment without my fellow noon boot camper, Paul Hinkley, and his confidence in me that I could do it.

Q: What would you say to anyone looking at this program?  I think I have probably already communicated how I feel about this program and I truly can't recommend it enough. No matter your age, fitness level, weight, confidence level. It is so friendly and motivating. It is geared so that all fitness levels work out together, but everyone works at their own pace. It really works for everyone.