Get You In Shape Spotlight Rookie of the Month – December 2014
The Get You In Shape team hand selects clients each month that we feel have transformed their health and fitness. This Get You In Shape Spotlight Rookie for December joined Get You In Shape in September 2014. Felicia Monroe is a stay at home mom and lives in Lewisville Texas.
Q: Why did you decide to join the Get You In Shape program? I was ready for change. I wasn't happy with how I felt and I knew anything would be better than what I was doing. I just didn't realize how much I would love this program.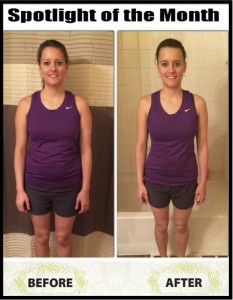 Q: What was your life like before joining the Get You In Shape Program? I was tired all the time so it made it hard to get up to do anything, and I was eating way too much for one person. As a result, I gained quite a bit of weight fast. I started to see the negative change in my body and realized this was not who I wanted to be.
Q: What was your first impression from the Get You In Shape program?Everyone was so welcoming and helpful. I loved that the trainers took the time to walk me through the exercises.  The first week I was sore but I felt better than I had in months! I was excited for the new life style I was starting.
Q: What have been some of the tools you have used that have benefited you?  I have used MyFitness Pal to log all of my food, which has helped me stay accountable. I have also been using the Advocare products. They have improved my energy, helped with appetite control, and the meal replacement shakes are wonderful!!
Q: How is the Get You In Shape program different from other programs you have tried before? The workouts we do are different every time, and the trainers are so encouraging. They also help you with nutrition and are always available for any questions you may have.
Q: What results and benefits have you experienced in the Get You In Shape Program? I lost 7 pounds and over 13 inches my first month. I also have more energy. I don't hit the midday slumps anymore and I feel like I get so much more done during the day. I felt great! I also started doing off day cardio. I wasn't able to run a mile in less than 11 min before I started GYIS and by the end of the first month I was running it just under 10 min.
Q: What would you say to anyone looking at this program? Do it!! You will not regret it!! There is so much more to this program than the workout.
______________________
www.GetYouInShape.com
If you live or work in
Coppell, Valley Ranch, Irving, Lewisville, Las Colinas, Carrollton, Flower Mound, Grapevine, Addison, Corinth, Highland Village, Dallas, and Famers Branch, the
Coppell Group Personal Training is just minutes away from you..Get You In Shape's programs include the Get You In Shape Group Personal Training, 24 Day Challenge,
sports specific training, weight loss programs, Corporate wellness plans, nutrition plans, core fitness training, strength training, toning
and more. Clients include
athletes (golf, basketball, tennis, football, track, baseball, baseball, volleyball, and softball) corporate executives, professionals, weekend warriors, cheerleaders, dancers, models, stay at home moms, and anyone looking for results.
Owner Brad Linder, has been featured in numerous newspapers and even as the fitness expert on the news 8 (ABC). Get You In Shape was also featured on The Doctor's TV show as one of the top Fitness Companies in Texas. He continues to use the gifts that he has been given to help serve the needs others have when it come to being healthy, losing weight, sports, toning up, and overall fitness. More information about Get You In Shape at
www.getyouinshape.com