Coppell Personal Trainer and Dallas Area Fitness Training from Get You in Shape
Personal Trainers at Get You In Shape
Get You In Shape's Founder, Brad Linder, hand selects each Certified Personal Trainer to fit the TEAM of trainers that all work together to help each and every client reach their fitness goals. Get You In Shape's personal trainers are committed to serving their clients and the needs of others to make health and fitness a lifestyle.  Each Certified Personal Fitness Trainer will have have a top certification with extensive experience in health and fitness. The Get You In Shape team of professional trainers and fitness coaches provides each and every client a positive environment that helps with motivation, encouragement, and inspiration.
_____________________________________________________________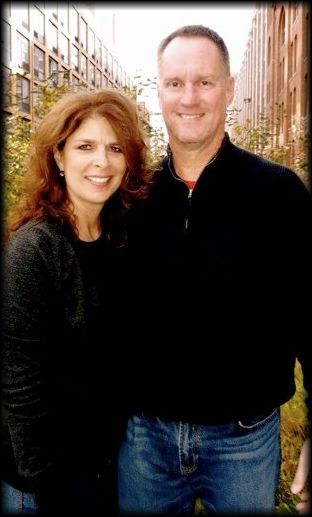 Kathy Chasteen
All Level Physical Ed. and Health Degree
Texas State University-San Marcos, Texas
28 Years Coaching Experience
Kathy currently leads and assists the Get You In Shape Cardio Club Program.
Kathy Chasteen has been coaching athletes in Grand Prairie and Coppell for the last 28 years. She has recently retired from teaching and coaching in the public schools and is looking forward to the transition from coaching teenagers to working with adults. Kathy loves motivating others to do their best.
She began working out with Get You in Shape in July 2012 after encouragement by Kristi Walthall. Kathy has lost 14 pounds and 15 inches in the last year and is addicted to our morning workouts.  She has also utilized the 24 Day Challenge to feel 100% and to learn better nutrition habits.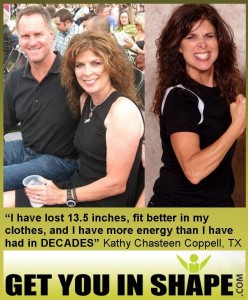 Kathy has lived in Coppell and worked for the Coppell ISD since 1997.  She is supported by her husband Brad, her four children, her son-in-law, and her grandbaby that is expected in February! All four children graduated from Coppell High School and went on to become college graduates, and the Chasteens have been deeply rooted in our community for years.
Kathy has made a real difference in so many young peoples' lives and she looks forward to "coaching" her new athletes and helping them achieve their goals.
This is Cathy's video from her 2012 Client of the Year