If you are looking for a proven ONSITE Corporate Fitness Program, Get You In Shape Can Help!

Get You In Shape is a leader in health and fitness in the Dallas, TX area. When it comes to corporate fitness and corporate wellness programs, we have a proven track record for bringing in a safe and effective onsite fitness program that will help boost company morale and motivate more employees to live a more active lifestyle. We also offer wellness seminars and nutrition workshops for companies that are just looking to add value to what they offer their employees.

​Dallas, TX onsite corporate wellness and fitness clients
Below are a few success stories of how Get You In Shape's onsite corporate wellness programs in the ​Dallas,TX area and in Coppell has helped their companies.
NexRex Corporate Wellness
United 1 Labs OnSite Corporate Fitness
Varidesk Coppell Onsite Fitness Program
As costs of insurance continue to climb, more and more companies are turning to wellness and fitness programs to successfully manage their budgets and keep their health insurance costs down. It's clear to see why this is a growing trend when you consider:
Numerous studies have demonstrated that healthy employees generate fewer medical expenses, less absenteeism and, are more likely to be more productive. As a result, corporate wellness or fitness programs are becoming critically important as a means to manage costs and improve employee morale and retention. They are an integral part of the company benefits package.

Getting employees to be motivated and encouraged about their own health and fitness can be a daunting task for any company. Get You In Shape can help with creating a positive environment that will help motivate, inspire and encourage employees.
Get You in Shape offers a wide range of fitness and corporate wellness programs in the Coppell, TX area and even in Dallas, TX. Each corporate wellness plan is customized to meet your corporate objectives. Some of these programs include:

1. Wellness Education Seminars and Nutrition Workshops for Corporations in the Coppell and Dallas, TX area.
Let Get You In Shape come to you office and lead a wellness seminar or a nutrition workshop. We have a number of different topics ranging from managing stress to tips to changing your lifestyle.

Seminars help educate your employees on critical health, nutrition and fitness issues, providing foundation information as well as tips that they can start using that day to help them immediately start becoming more healthy. These wellness talks are a great way to get employees to start thinking about the major health issues and begin making lifestyle choices to improve their health.
Get You in Shape
2. Onsite Fitness Programs for corporations in and around Coppell, TX and even in the Dallas, TX area.
Get You in Shape offers several different health and fitness programs. We start with our proven fitness program and have our team of superior certified professional trainers work directly with your company to customize a program to meet your specific corporate wellness objectives. Programs include assessments, customized nutrition and exercise programs, ongoing motivational emails and communications throughout the program from our trainers, access to our trainers to answer any individual questions and can also include onsite boot camps, and even individual one-on-one training time for each employee with a professional trainer. Since we cover the entire Dallas, TX area, we can serve the needs of many different sized companies.

The majority of companies choose between:
two 30 or 45 minute group personal training sessions a week
One 30 or 45 minute yoga session and two 30 or 45 minute group personal training sessions a week.
​Three 30 or 45 minute Group Personal Training sessions a week.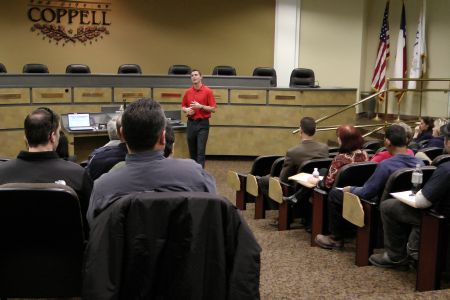 There are many different options available and with Get You in Shape you help define the wellness and fitness program that is right for your company.
#3 Corporate Contests
We can incorporate contests into any of our programs to raise the level of staff excitement and engagement. These contests are designed to increase participation, motivation and use a healthy dose of competition to further encourage employees to embrace a healthier lifestyle. Each contest is different but all are focused on inspiring each participant to reach their own health and fitness goals.
Challenge are something that have always been a hit with corporations. This is an actual service that is sweeping across the Country. Get You In Shape will bring a group challenge to you. This is a program is all about giving you a jump start, breaking through that plateau, or just staying motivated. It incorporates a proven system which involves step by step by step directions making it easy to follow and easy to feel and see the results. Get You In Shape has done a number of group Onsite Challenges in the Coppell and Dallas area for corporate contests. Giving folks an incentive (a Challenge with awards, teams, prizes, etc) makes it easy to get motivated and stay motivated.
Ready To Get Your Company Started?
Click On the Contact Us Today Image or call us at
214-603-8287
Below are a few of Get You In Shape's onsite corporate wellness and fitness companies that we have worked with.