blog , Coppell Trainer Tip , Group Personal Training
Coppell Personal Trainer Tip – 6 Tips to Push past the Discomfort
1. The discomfort: Feeling Anxious in Anticipation of a Run and/or workout
How to Deal with It: Remember Your Strengths
think of all the other challenging workouts you've done to remind yourself of how strong and capable you are
2. The discomfort: Struggling Through a Running workout
How to Deal with It: Run with Purpose
Do not dwell on how much you hurt. Rather, focus on your rationale for training. Tell yourself, 'I'm working this hard because…' and then fill in your performance goal.
3. The discomfort: Climbing a Steep Hill
How to Deal With it: Repeat a Mantra. 
If you connect pain with a negative emotion, you'll feel more pain. Connect it with a positive thought, and you'll feel less. Create a positive affirmation you can call upon during tough bouts.
4. The discomfort: Hitting a Low
How to Deal With It: Know It Will Pass
Remind yourself that the discomfort is temporary, and each step forward is one closer to the finish. Research has even shown that pain is often mostly in your head and not an accurate signal of physical distress. Keeping this in mind will enable you to push through the discomfort so you can run faster or longer.
5. The discomfort: Running Fatigue
How to Deal with It: Think of the Payoff
Do not get too emotionally involved with the discomfort or get upset when you feel it. Detach yourself and simply use it as information.  Ask yourself where the pain is and why it's happening. And if it's not related to an injury, then acknowledge that this could be an indication that what you're doing is going to help you reach your goal.
6. The discomfort: Soreness is evidence of Production
How to Deal with It: Distract Yourself
Focus on something else while also staying in the moment; find a way to channel your discomfort. Get You In Shape and GYIS Cardio Club is here for you. We will be here smiling and cheering you on.
Ideas to help with soreness Items needed:  foam roller, a massage stick and either a lacrosse ball or Trigger Point Therapy ball.
Set a timer. Use your watch or your smart phone to set a timer so that it beeps every minute.
The feet. Roll the ball under each foot for one minute. Find any particular hot spots and apply good pressure.
Using the massage stick, go after the calf muscles, one minute per leg. If you find any deep knots, spend some extra time with the ball digging in and across the knot.
Quads. Put the roller on the ground and lay down on it so you can roll out your quad muscles, one minute each side.
IT bands. Roll out each IT band, one-minute each. A minute doesn't sound very long until you get to this one.
Hamstrings. Using the roller, roll out the hamstrings, one minute per side.
Glutes. Spend a final couple of minutes rolling out each hip and also the lower back. An additional tool can be a softball or softball-size mobility ball, which can also be used to work out any knots in the gluteus muscles.Coppell Fitness Tip written by Get You In Shape coach Kathy Chasteen
_____________________________________________________________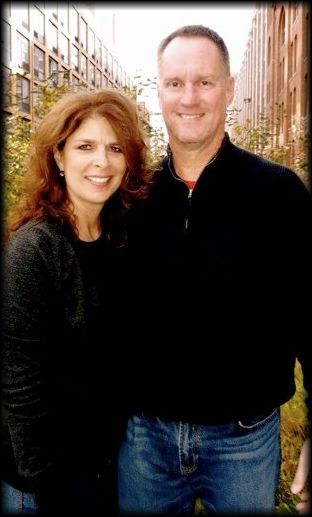 Kathy Chasteen
All Level Physical Ed. and Health Degree
Texas State University-San Marcos, Texas
Kathy currently leads and assists the Get You In Shape Cardio Club Program.
Kathy Chasteen has been coaching athletes in Grand Prairie and Coppell for the last 28 years. She has recently retired from teaching and coaching in the public schools and is looking forward to the transition from coaching teenagers to working with adults. Kathy loves motivating others to do their best.
She began working out with Get You in Shape in July 2012 after encouragement by Kristi Walthall. Kathy has lost 14 pounds and 15 inches in the last year and is addicted to our morning workouts.  She has also utilized the 24 Day Challenge to feel 100% and to learn better nutrition habits.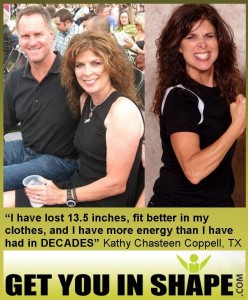 Kathy has lived in Coppell and worked for the Coppell ISD since 1997.  She is supported by her husband Brad, her four children, her son-in-law, and her grandbaby that is expected in February! All four children graduated from Coppell High School and went on to become college graduates, and the Chasteens have been deeply rooted in our community for years.
Kathy has made a real difference in so many young peoples' lives and she looks forward to "coaching" her new athletes and helping them achieve their goals.
Get You In Shape was started in 2006 by Brad Linder. Fast forward to today, Get You In Shape is the most popular, most talked about, and most results-driven fitness program in the Dallas, TX area and in Coppell, TX. Since 2007, Get You In Shape has helped over 5000 participants in our nutrition services and fitness programs. Group Fitness Boot Camps and the Advocare 24 Day Challenge are the two most popular programs that Get You in Shape offers.  Get You In Shape also offers Corporate Wellness and Fitness Programs and also private personal training.
Please feel free to look around the website and sign up for our free reports. If you are in the Dallas and Coppell area, let us know how we can help you. We have free trial weeks of our fitness boot camp and free informational meeting about our 24 Day Challenge.
If you live close to or work close to Coppell, Irving, Valley Ranch, Las Colinas, Grapevine, Carrollton, Plano, Flower Mound, Dallas, Southlake, Lewisville and other Dallas area cities, Get You In Shape has both fitness program and nutrition programs for you.