Chuck McCan is in sales and has lived in Coppell since 1984. He started with Get You In Shape in 2010.
Q: What was your life like before joining the Get You In Shape Program?
Prior to Get You In Shape, I was pretty much a self-starter. Pretty much every night, I would come home and do my sit ups and a little bit of light weights. I wasn't running. I was doing some bike riding. It got to be kind of monotonous, just the same thing every night.
Q: What results and benefits did you initially experience with the Get You In Shape Program?
I joined in 2010 after my wife kept asking me; you need to join, you need to join, you need to come out and try it. So I came out and tried and I instantly met some really nice people. I realized after the first workout that I was sore in places I didn't even know existed in my body because I really wasn't doing a full body workout. Before, I was just focusing on getting the big biceps and that sort of thing. That was the first part. The second part was the hour that we workout went by really fast. It surprised me because I thought it would be tedious and long. We had fun. There was a lot of comradery going on between the different people so it turned out to be a pretty good step for me.
Q: What results and benefits you accomplished since that first year?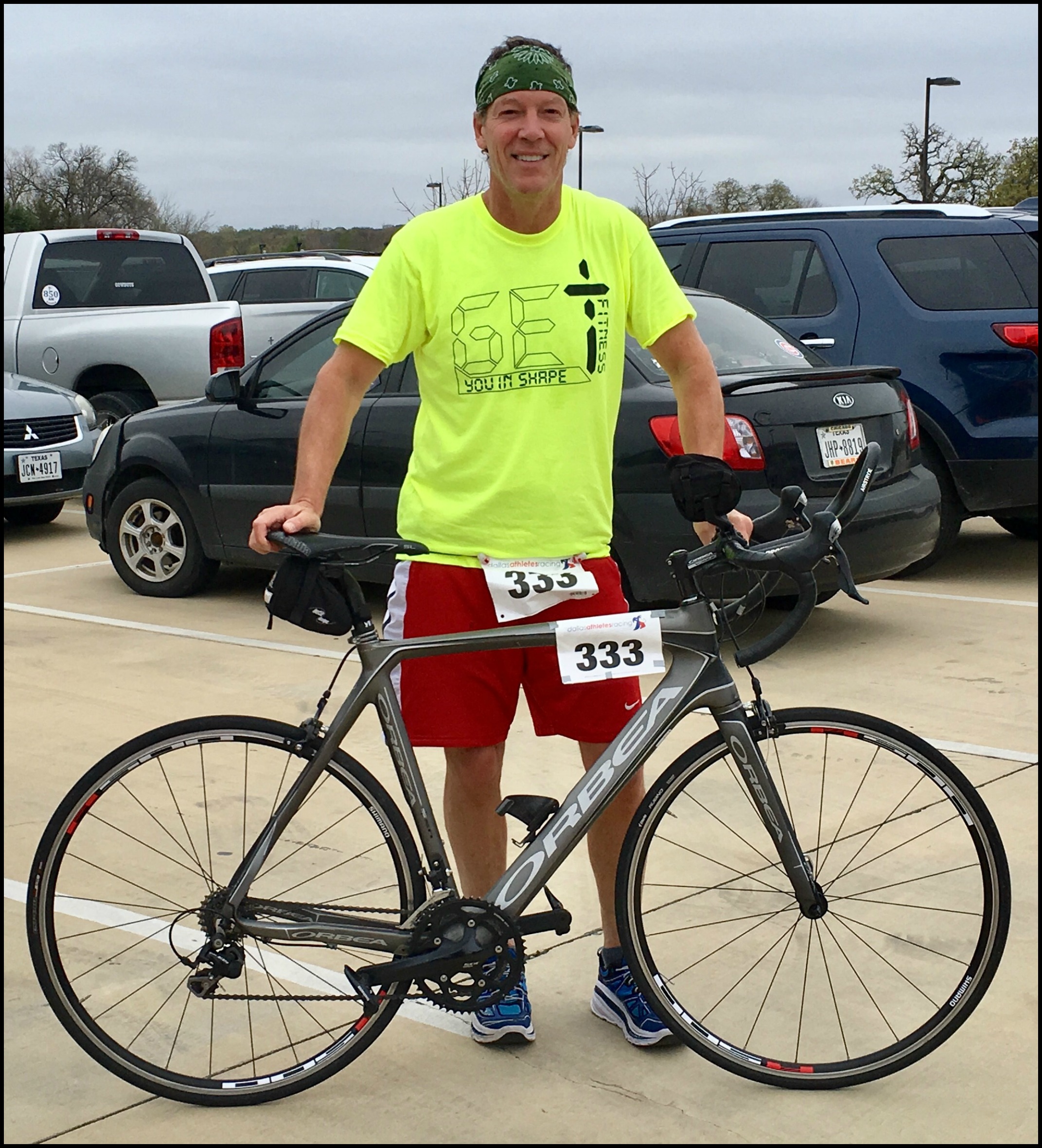 Since I started the program, I've kept my weight consistent. I never had any weight issues but I'm getting older and so the body changes and I've been able to keep my body about the same. I'm doing sprint triathlons, which I've been doing for about 5 years. I'm running which I haven't done since high school and that's really helped my cardio tremendously. I also do Cardo Club which has been wonderful for my triathlon running, where I have to run a 5K every race. It's kept me consistent, kept me going, has given me goals to shoot for with those races but, the GYIS workouts keep me active, keeps my body ready for when I get to the race, I'm ready to go and I can still perform close to the same time as I did 5 years ago.
Q: How is the Get You In Shape program different from other programs you have tried before?
GYIS is different and a little unique because it's a full body workout; it's not the same thing every day. Even now, we're doing boxing and I get home after doing one of the boxing routines and I can't believe I got muscles in those spots. It's always something different between core and cardio, the muscles. It's been a welcome change to my body. I still get sore but it doesn't last as long. I'm able to work it out. I know how to stretch better to relief the pain and stretch the muscle and it's just been great.
Q: What do you feel have been some of the keys that have helped you throughout the journey?
Drink water. I've learned through this program waters critical. Jump in, try not to miss, stay consistent. I've always eaten breakfast, now I realize how important that is. I use some of the AdvoCare products, especially in the morning, which gives me a jump start on the day. To me, it's just jumping in and being consistent. If you miss you've got a bunch of friends in your class and they're wondering where you are? It's almost not acceptable to miss a class. They're wondering where you are, wants going on and why you weren't there, especially if it was a tough day. They're all sore and you're not. You've got to the piper on that one. And it's just fun!
If you live or work in Coppell, Valley Ranch, Irving, Lewisville, Las Colinas, Carrollton, Flower Mound, Grapevine, Addison, Corinth, Highland Village, Dallas, and Famers Branch, the Coppell Group Personal Training is just minutes away from you. Get You In Shape's programs include the Get You In Shape Group Personal Training, 24 Day Challenge, sports specific training, weight loss programs, Corporate wellness plans, nutrition plans, core fitness training, strength training, toning and more. Clients include athletes (golf, basketball, tennis, football, track, baseball, baseball, volleyball, and softball) corporate executives, professionals, weekend warriors, cheerleaders, dancers, models, stay at home moms, and anyone looking for results.
Owner Brad Linder, has been featured in numerous newspapers and even as the fitness expert on the news 8 (ABC). Get You In Shape was also featured on The Doctor's TV show as one of the top Fitness Companies in Texas. He continues to use the gifts that he has been given to help serve the needs others have when it come to being healthy, losing weight, sports, toning up, and overall fitness.
More information about Get You In Shape at www.getyouinshape.com