Dear Valued Get You In Shape Client,
As 2017 starts, we wanted to bring back one of our most success programs -The Get You In Shape Team Accountability Biggest Winner Challenge. We have done this program a few times before with great success.
Here is a quick look at the RESULTS from a previous Biggest Winner Teams
Hopefully this will give you some motivation to sign up and be a part of this 6 Week Team Program.
Here is a look at the 2016 & 2015 Biggest Winner Teams. We lost a total of 300 pounds together.
GO HERE TO SEE THE 2016 RESULTS
GO HERE TO SEE THE 2015 RESULTS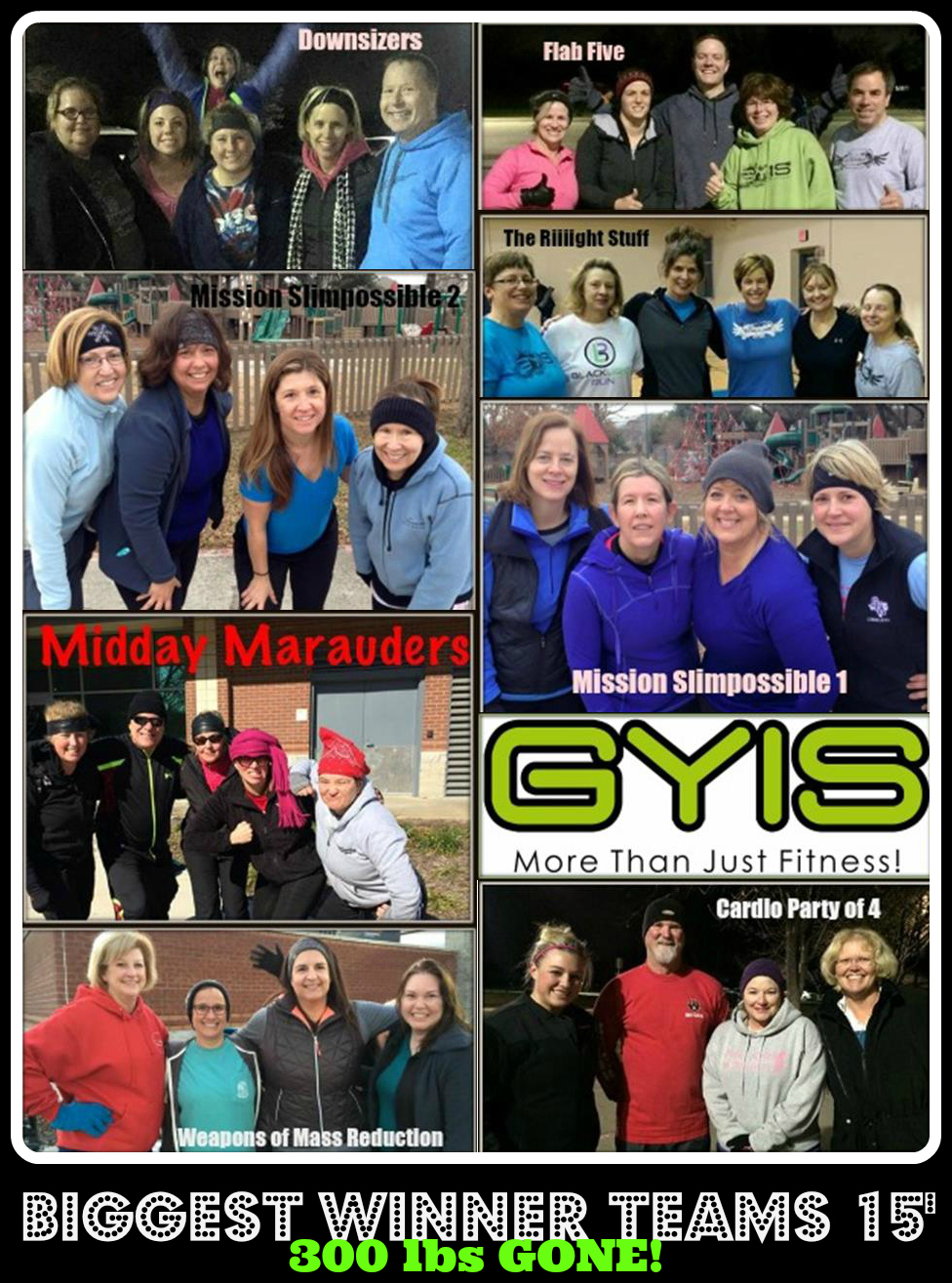 We know starting 2017 with a focus on Team Accountability will help YOU achieve your goals fast AND have a more enjoyable experience. EVERYTHING we are doing for the GYIS Team Accountability Biggest Winner Challenge is designed for you.
We are blessed and excited about sharing the New Year Accountability Biggest Winner journey with YOU! We want everyone to come together to help us live out our #1 Core Value to "put people in a positive environment that will create motivation, encouragement, accountability and inspiration."
This contest is designed to help foster teamwork within our GYIS community, keep you accountable to coming to the GYIS workouts, off-day cardio and your nutrition. Lastly, we are adding in things to help with community to make the process and journey more enjoyable.
What better way to start 2017 than to do all the things you know you should be doing to help keep you on track with a TEAM?
Scroll Down After Reading the Details to Sign Up
The Get You In Shape Biggest Winner
Team & Individual Contest
Prizes and Awards
The Biggest Winner is not about winners and losers, but as with any of the contests Get You In Shape has sponsored in the past, this is a contest that provides extra motivation and encouragement for all of the participants, wherever they are in their fitness journey.
We will have awards and prizes for Teams and the Top 2 Individuals!
If you complete all components, fill out and turn everything in you will get a t-shirt
Overall Winner: Team Award:
Each team member will be able to 'gift' 1 free month of Get You In Shape's fitness program to a friend. This is putting in action GYIS's #3 Core Value, Pay it Forward! (Over $1,000 Value).
Each team member will receive 1 box of Spark and Free GYIS Winter Gear ($47.95 value)
Top 2 Transformations–Individual Awards:
One month of the Get You In Shape Fitness Program (up to $219 value)
One month of the Get You In Shape Cardio Club Program ($60 value)
What is the GYIS Biggest Winner Contest?
This is simply a contest to keep you motivated and accountable for 6 weeks. There are a few things that we are going to do to help hold you accountable to the simple things we all need to do to stay on track and get the BEST results in just 6 weeks.
Here are the basics:
The cost is $29 to participate.
Why are we doing it?
1. Start 2017 Off-Right – The #1 answer we get from folks joining our program is that they simply won't do it on their own. Having a program that is geared around helping keep you accountable (through a team and checklists) will simply help you get off to a fast start in 2017.
2. T.E.A.M. – Together Everyone Achieves More – We know that from our past programs having a TEAM will help you achieve results AND allow the process and journey to be easier.
3. Strengthen our GYIS community – We know the power of being involved in a community where everyone is like minded and on the same page. We know that this will help YOU and your team. We can all come together to help motivate and inspire each other in our GYIS community.
4. Make the process of Getting/Staying in Shape Enjoyable – Let's face it, going to every workout, doing your off-day cardio, journaling everything you put in your mouth, and following the Nutrition Program is tough. This Contest will help make the process easier and more enjoyable.
5. Keep YOU Motivated and Accountable – We know that this time of year is tough. Thanksgiving and Christmas are in your rear view window and you may be facing the results of some poor eating & exercise decisions during the past 2 months. What better way than to have a contest that will help ensure you get on track and stay there?
Why are we charging $29 to Enter? We know that if you invest some money (put some skin in the game) then you will more than likely stick with the program. Since this is a team and individual contest, we also think this will help everyone follow the guidelines.
Rules and Details – How to Get Your Biggest Winner T-Shirt

All of the below actions will help YOU and YOUR RESULTS.
The requirements to get your Biggest Winner T-Shirt are things that will help YOU ACHIEVE RESULTS and HELP you stay accountable to the simple things we all need to do in order to get and stay in shape. Having some "skin in the game" and investing $29 will let us know you are committed and willing to be held accountable.
Once you sign up, you will get the Biggest Winner Guidebook that has more details. This is some of the information included in the Guidebook:
1. Get measured and weighed byon January 2nd at any of the fitness sessions.
2. Print and check off the 6 Week Checklist and turn in by February 11th (you will get this when you sign up).
3. Attend at least 2 Get You In Shape Fitness Sessions each week for 6 weeks.
4. Perform at least 2 off-day workouts each week and post what you did on the Facebook GYIS VIP Group page on those days. This is not only to keep you accountable but to help motivate and encourage our GYIS community also.
5. Weekly Journal Turn in – Share your MyFitnessPal.com app with your GYIS trainer/coach for the Contest. If you are not going to use MyFitnessPal you will need to turn in some form of journal for the entire week.
6. Make an honest effort to follow the Nutrition 101 System which is in our Get You In Shape Program pages 5-9.
7. Submit at least one tip throughout the 6 weeks to the Facebook GYIS VIP Group page that you have used that has helped and benefited you.
8. You must get your final measurements and weight recorded on or before Friday February 10th or Saturday February 11th. It is your responsibility to make sure you get your measurements and weight.
Scroll Down After Reading the Details to Sign Up
Why are some of the things associated with this contest have to do with using Facebook?
We will be using our private group page on Facebook as a way to communicate and help each other throughout the contest. Facebook is the easiest and simplest way that we can do this. So if you are not on Facebook and want to be a part of this contest, we encourage you to sign up just for 6 weeks. This is simply the easiest way to help hold everyone accountable and keep track. This is two times a week we are asking you to take a minute and record what you did for your off-day cardio and one time throughout the 6 weeks to help our community by giving/sharing a tip.
How Are The Winning Team And Individuals Chosen?
How to Win —The individual winners and team winners will be based on a combination of actual results (weight and inches lost), total transformation, total participation to our GYIS community (including Facebook), written and video testimonies and TOTAL AWESOMENESS.
Other factors that will help determine the winners are: Attendance and individual/team interaction; Overall positive attitude and the energy you bring the GYIS community; Team and individual interaction.
Team & Individual Contest – The Scoop
The Scoop
The Contest will start January 2nd  and run for six (6) weeks through February 10th.
Everyone that is joining will need to get weighed & measured January 2nd. We will offer it a few times but it will be your responsibility to ask a trainer before or after a session to get your measurements. If you are also doing our Transformation Contest (go here for information), we will be having a kick off meeting either virtually or on December 29th and will be doing measurements then that you can use for the Biggest Winner Contest also.
Each participant can select a team of their own choosing or will be placed on a team of other Get You In Shape clients. Teams will have four to five participants. If you already have a team, please email Kathy Pendergast (kathyop@getyouinshape.com) and let her know the team members. Ideally, you want to get on a team with folks that work out at the same time as you do.
All teams will be announced by January 2nd. This is so that we can provide everyone with their team members' contact information, your team can choose a team name, and you make arrangements to take a team picture. For the team picture, ask one of the trainers to take it on their phone or you guys can take it. Post it on the GYIS VIP Group page on facebook (https://www.facebook.com/groups/GetYouInShape/) and send a copy to Kathy Pendergast (kathyop@getyouinshape.com), including your Team name.
Each team will help keep everyone accountable and on track. This is all about creating a support system so that we can all help keep each other motivated, accountable and inspired. Together Everyone Achieves More (T.E.A.M.)
Each TEAM will be relying on the team members to hold each other accountable, motivated, and inspired.
Although this is a client driven team contest, each team will also have a Get You In Shape Fitness Coach to help with any questions and weekly check-ins.
Everyone will track their workouts and nutrition and each week you will share/turn in your weekly journal with your trainer/coach.
We will have some gauges to track fitness progress, results, attendance, and off-day cardio. These will all be factors in determining the individual and team winners.
The idea of the Get You In Shape Biggest Winner is to provide extra motivation, inspiration, encouragement and accountability by having teams and a healthy dose of competition.
We ask that you commit yourself to the program for six weeks. We know many of our clients are looking for extra motivation this time of year. As a GYIS community, I hope we all can help each other push through the next six weeks!