To celebrate Get You In Shape's 10th Anniversary, we are going to play a game of Boot Camp BINGO. The BINGO game will run throughout the October Fitness Sessions, September 25th – October 21st with the chance to win some really awesome prizes.

All Get You In Shape Clients will receive a BingoCard in class starting Sept. 20th. It looks like this: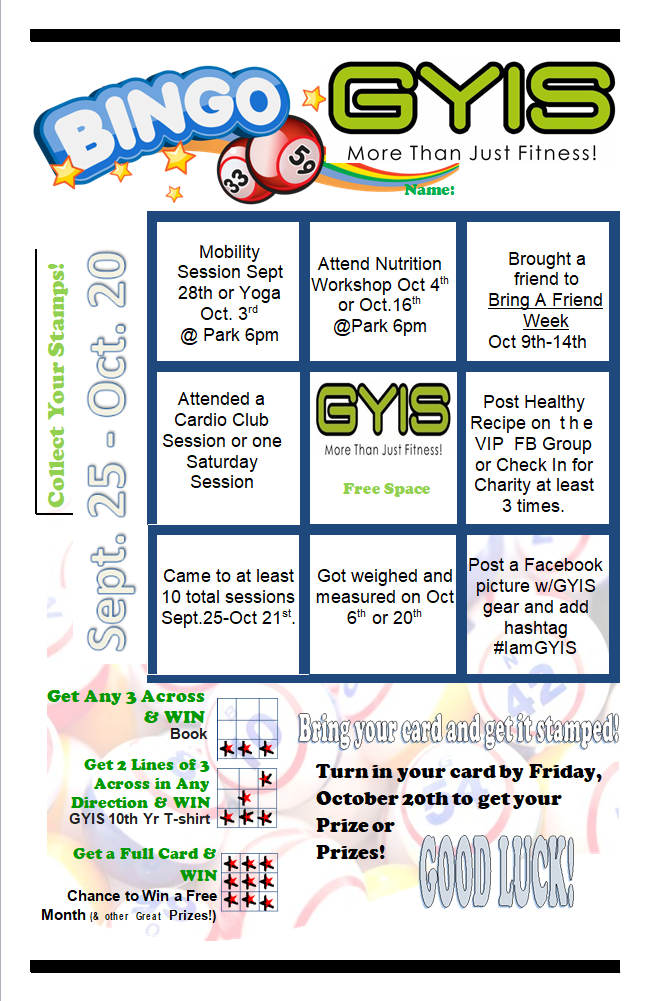 For each space that you "Earn", you will have a GYIS trainer give you a stamp or sticker. At the end of the BINGO game on October 21st, you will receive your prizes based upon how many "Bingos" you received (3 stamps in a row, 2 rows of stamps in a row, or filling your entire card).
Prizes we are giving away are:
Get You In Shape Book by Brad Linder

A Special Edition 10th Year Anniversary GYIS T-Shirt


The Chance to Win 1 Free Month of Boot Camp and other prizes.
Here are the squares that are on the card and more information about each one:
Come to the September 28th Mobility Session from 6pm-7pm at the Park OR the October 3rd Yoga Session from 6pm-7pm at the Park.  You choose which one you want.
Attend a Nutrition Workshop on October 4th or 16th from 6pm-7pm at the Park.
Bring a Friend (or 2!) to "Bring a Friend Week" October 9-14. Invite a friend, neighbor or family member to join you at any of our classes offered that week. In order for you to get a stamp, they

do

need to be someone who has not attended before with you.
Attend a Cardio Club Session Or One Saturday Session. You choose which one you want. For Cardio Club, If you are already a Cardio Club member, then this is easy. If you are not a member of Cardio Club, then please plan on joining us for one session of Cardio Club or join for just the month of October at a special rate – $20 for Part Time ( 4 sessions) or $40 for Full Time (8 sessions).  Click Here to join. Sessions are held on Tuesdays and Thursdays at 5:30am or 6:30am under the Grand Pavilion. The Saturday Sessions in October are the 7th and the 14th.
Post Your Favorite Healthy Recipe on the

GYIS VIP Facebook Group

 OR Check In For Charity at least 3 times.  Click Here to learn how to Check In For Charity.  Share your favorite meals with your fellow boot campers!
During the Boot Camp calendar month of October, come to at least 10 sessions… You can do this!! This can be a combination of Fitness sessions and Cardio Club sessions.  If you are not a part of Cardio Club already, you can join for the month of October at a special rate – $20 for Part Time ( 4 sessions) or $40 for Full Time (8 sessions).  Click Here to join.
Get Weighed and Measured (Oct 6th or Oct 20th) 
Post a Picture of You Wearing GYIS gear on

YOUR

Facebook page (Not the GYIS VIP Group page). The picture should be somewhere other than the park as this is meant to be a fun way to show your support for GYIS. Then all you need to do in the comment area is add #IamGYIS to your post so we can search #IamGYIS in the search bar and find all who have posted a picture on their page sporting their GYIS shirts and have earned their BINGO Stamp. If you need GYIS gear we have it for sale in the trailer.
We hope you will participate & enjoy this fun game. B-I-N-G-O!
Questions about the game or any of the squares? Post on the GYIS Private Facebook Group here or contact us.

For anyone asking, Get You In Shape was actually founded in 2006 but the Coppell Fitness program began in 2007.